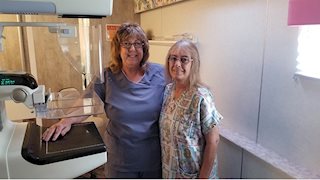 MORGANTOWN, W.Va. – Bonnie's Bus performed its 20,000th screening on Aug. 2 during its visit to the Mineral County Health Department in Keyser.
The Bonnie's Bus Mobile Mammography Program began its screenings in 2009 through a donation from Jo and Ben Stater. The Bus is named in memory of Jo Statler's mother, Bonnie Wells Wilson, who spent her life in a remote area of the state that lacked access to mammography services. The Statlers wanted to ensure that other families would not lose family members due to a lack of mammography access.
"When Jo and Ben Statler first conceived of the notion of a mobile mammography bus to enable women to access screening close to home, the thought of completing the 20,000th test must have seemed like a goal for the distant future," Richard Goldberg, M.D., director of the WVU Cancer Institute, said. "The fact that we have reached that milestone indicates both the unmet need for and the importance of that service for so many women in West Virginia. It is efforts like this, supported by a dedicated staff and a couple passionate about improving our state's health, that truly inspire us."
Since the program began, at least 90 cases of breast cancer have been detected through screenings provided by the Bus. Regular breast screenings can allow for the early detection and treatment of breast cancer.
"We are extremely proud to offer a program that has served so many patients across the state," Jenny Ostein, WVU Cancer Institute director of mobile screening, said. "It is humbling to think that many of these patients would not be able to have this screening without our program."
Bonnie's Bus provides screenings to patients in all 55 counties, and no woman over the age of 40 is turned away due to a lack of insurance. Funding for underinsured and uninsured patients is provided through grants and private donations.
For more information on Bonnie's Bus, visit www.wvucancer.org/bonnie.