Cottrell named 2017-2018 James and Karen Caveney Alumni Association Faculty Excellence Award recipient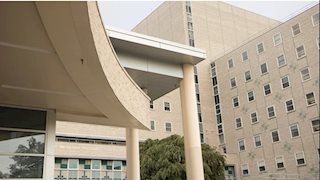 Lesley Cottrell, director of the Center for Excellence in Disabilities in the Health Sciences Center at West Virginia University, has been named the recipient of the 2017-2018 James and Karen Caveney Alumni Association Faculty Excellence Award.
Established in 2014 as a donation to the WVU State of Minds Campaign, the award is intended to recognize the contributions of a "highly-productive" faculty member who demonstrates excellence in teaching and research alongside a demonstrated "commitment to the people of West Virginia."
The alumni sponsors of the award, James and Karen Caveney, boast 19 WVU degrees, including eight at the doctoral level, in their immediate family. They are proud to support the world-class research and teaching at WVU.
"WVU changed our family's lives forever, especially since all of our own doctoral degrees come from the Health Sciences Center," Dr. James Caveney said. "We are excited to honor Dr. Lesley Cottrell of the HSC as the recipient of this year's Caveney Faculty Excellence Award."
A renowned researcher in her field, Cottrell has secured 22 grants totaling more than $45 million dollars, from sources including National Institutes of Health, the US Department of Health and Human Resources and the Administration for Community Living. She maintains three active grants, two of which established or maintain centers at WVU, while the third funds clinical trial research opportunities in West Virginia as part of a larger national network.
Cottrell has actively contributed to the development, implementation and reporting of several public health research programs within the state and has represented these programs on a national level. Her research focuses on parental influences on child and adolescent health behaviors with regard to changing outcomes such as childhood obesity, metabolic abnormalities and adolescent pregnancies.
"Dr. Cottrell is an ideal recipient of the Caveney award because in all that she does, she represents the best of WVU," said Provost McConnell, whose office administers the award. "Her research, teaching and service are totally aligned and all in service of improving the health of the people of West Virginia long-term. Dr. Cottrell truly helps us fulfill our land grant mission to our state."
In addition to serving as director of the CED at the HSC, Cottrell is also a professor and the vice chair for research in the School of Medicine's Department of Pediatrics and an adjunct professor in the Department of Social and Behavioral Sciences in the School of Public Health. She currently sits on three national committees related to public health. Her work demonstrates her ongoing commitment to represent WVU at the national level and to find innovative solutions to the state's health problems.
As the recipient of the 2017-2018 Caveney Award, Cottrell will receive $5000 in professional development monies from the Caveney Fund and be recognized by WVU President Gordon Gee and Provost McConnell at the annual faculty and staff awards dinner at Blaney House this spring.