Dental hygiene students prepare for clinical and patient care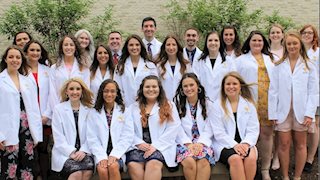 Clinic induction ceremony signals transition from classroom and lab work.
The West Virginia University School of Dentistry Dental Hygiene Class of 2020 celebrated entry into the patient care portion of their program.
The 22 rising juniors have successfully completed two years of academic studies.
Over the next two years, the students will work toward their Bachelor of Science degree completing patient treatment, didactic, laboratory and research work.
On Friday, May 18, the Department of Dental Hygiene hosted the students and their families for a "White Coat" Ceremony marking the next step in their dental school career.
Congratulations to the following:
Allison Bauer, Wheeling, WV
Nicholas Campbell, Weirton, WV
Matthew Duggan, Romford, England (most recently a Morgantown, WV resident)
Makenzy Fox, Morgantown, WV
Taylor French, Laurel, DE
Elizabeth Green, Vermont (most recently a Morgantown, WV resident)
Shelby Hawk, Maysville, WV
Malia Howard, Bridgeport, WV
Zachary Johnson, Bruceton Mills, WV
Jordyne Jones, Parkersburg, WV
Kirsten Lancia, Weirton, WV
Emily Longerbeam, Harpers Ferry, WV
Gianna Mollica, Uniontown, PA
Madison Mullenax, Parsons, WV
Hailey Neubert, Shady Spring, WV
Kaitlyn Ross, Denver, PA
Victoria Rutherford, Bethel Park, PA
Kylie Sharp, Reedsville, OH
Morgan Stemple, Bruceton Mills, WV
Brittani Stephenson, Huntington, WV
Ashley Taylor, Spanishburg, WV
Peyton Wimmer, Morgantown, WV