Dental hygiene students presented with white coats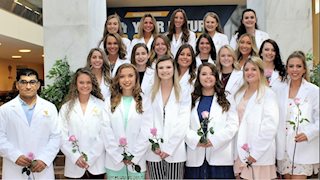 Clinic induction ceremony marks third year of school
A spring ceremony marks a milestone for West Virginia University School of Dentistry dental hygiene students. The Class of 2021 has successfully completed two years of academic studies.
Over the next two years, the 21 students will work toward their Bachelor of Science degree completing patient treatment, didactic, laboratory and research work in the dental school's Department of Dental Hygiene.
On Friday, May 24, 2019, in front of family and friends, the class celebrated a transition into direct patient care in the clinic induction ceremony.
See additional pictures from the ceremony and reception.
Congratulations to the following:
Hashim Abualrahi, Saudi Arabia
Samantha Alioto, Wexford, PA
Ruth Beck, Parkton, MD
Haley Cramer, Albright, WV
Kelsey Cummings, Shinnston, WV
Claire Frank, Port Washington, OH
Alexis Gaydos, Morgantown, WV
Amber Hott, Augusta, WV
Caitlin Hull, Fredericksburg, VA
Merranda Lackey, Bloomingdale, OH
Kelley Long, Tornado, WV
Harley Maynard, Weston, WV
Nina Mitzelfelt, Westminster, MD
Anna Moser, Morgantown, WV
Samantha Roberts, Frederick, MD
Taylor Sherry, Indiana, PA
Kasie Stewart, Wheeling, WV
Abby Vavrick, Bridgeport, WV
Zoe Walls, Spencer, WV
Savannah Warnken, Morgantown, WV
Sydney Williamson, Erie, PA