Back to

News
Dental school oral medicine expert teaching and treating patients
Dr. Juan Bugueno can collaborate care in medically complex cases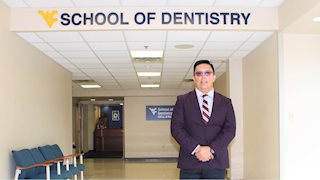 MORGANTOWN, W.Va. – Juan Bugueno, DDS, MS, an oral medicine expert, has joined the Department of Diagnostic Sciences in the West Virginia University School of Dentistry as an associate professor.
Dr. Bugueno completed a two-year oral medicine residency at the University of Pennsylvania where he focused on the specialties of oral mucosal disorders, chronic head and facial pain, salivary pathology and oral manifestations of systemic diseases.
He is a member of the American Academy of Oral Medicine, an organization that has recognized him for case reports and overall service in the field of oral medicine.
Dr. Bugueno will begin receiving patients in September. He will also be available to collaborate with medical and oral health providers across the region in the care of their patients.
For more information or to contact Dr. Bugueno, please call 304-293-6208.
For news and information on the WVU School of Dentistry, follow us on twitter @WVUDentalSchool, like us on Facebook or visit dentistry.hsc.wvu.edu.