Doc Stevens golf spectacular continues to support School of Dentistry students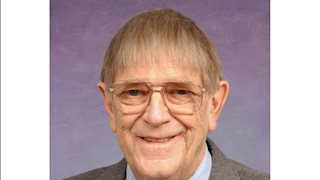 Event takes place June 1.
For more than two decades, a beloved WVU School of Dentistry faculty member's legacy has been carried on through an endowment for student scholarship.
However, his true blue and gold spirit was ignited long before he was a faculty member and assistant dean.
Dr. Frank Stevens, affectionately known as "Doc", worked in private practice for 23 years before serving in numerous capacities at the dental school for 19 years.
Stevens attended the WVU School of Dentistry from 1958 to 1962.
To make ends meet during that time, he picked up hours at WAJR-AM radio in Morgantown which sparked the Bridgeport dentist's draw to broadcasting.
Named the Most Loyal Faculty Mountaineer in 2003, Stevens is just as likely to be remembered for the 44 years he served as the public address announcer at WVU football and basketball games as he is for patient care and teaching.
The announcing gig became something of a full-time hobby that made him an active supporter of Mountaineer athletics and The Pride of West Virginia, WVU's band.

In 2004, though, the first Dr. Frank Stevens Student Scholarship was awarded to a School of Dentistry student.
Since then, 45 more men and women have benefitted from the financial boost to help them in their quest to become dentists.
The total amount given to date through partial scholarship is $68,610.
To continue the generosity set forth by Dr. Stevens and his family, the WVU School of Dentistry will host the 22nd annual Dr. Frank Stevens Golf Spectacular.
The June 1, 2018 scramble is scheduled at The Pines Country Club in Morgantown.
In 2017-2018, three hardworking, dedicated dental students received academic assistance from the endowment including Cassie Liston, a second-year dental student.

"Like many other students, I am relying solely on student loans to pay for not only my tuition and fees but also housing and other personal expenses; I also carry some student loan debt from undergrad as well. I can't express enough appreciation for any amount of help in reducing the amount of debt I will graduate with."
Liston is a Reedsville, WV native looking forward to receiving her white coat in the fall.
"In addition to the monetary aspect, it feels so good to have my hard work and success in dental school thus far be recognized as a scholarship recipient," she added.
Individual scholarships have ranged from $500 to $2,270 over more than 14 years.
During his lifetime, Stevens, who passed away in 2004, held titles including American Dental Association delegate and trustee, School of Dentistry Alumni Association President, and distinguished alumnus of the dental school.