Doctor of Dental Surgery 2018 graduates earn awards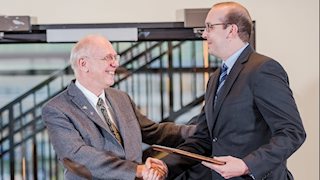 Congratulations to the West Virginia University School of Dentistry Class of 2018 senior awards recipients. The Alpha Beta Chapter Omicron Kappa Upsilon (OKU) and WVU School of Dentistry Senior Awards convocation and banquet was hosted Thursday, May 10 at Touchdown Terrace of Mylan Puskar Stadium.
OKU was organized in 1914 as a national dental honor society "to encourage and develope a spirit of emulation among students in denstiry and to recognize in an appropriate manner those who shall distinguish themselves by a high grade of scholarship".
The School of Dentistry awards are sponsored by national organizations and societies. (Photos by Carrie Leigh Photography.)
OKU faculty candidate: Dr. Matthew Bryington
OKU alumni membership candidates: Micah Yetter, Demetra Malamatenios, Stephanie Gordon, Grace Garcia, Ryan Austin Andrea Cain
Kramer Award: Angela Pelehac
Awarded as part of the OKU ceremony to a third-year student
Senior Clinical Award: Demetra Malamatenios
Academy of Dental Materials: Rob Waldrop
Recognizes a student who has demonstrated excellence in the field of Dental Materials Science.
Academy of Dentistry for Persons with Disabilities: Elyse Reihner
Recognizes a student who has demonstrated a sincere interest and concern for the dental needs of persons with disabilities

Academy of General Dentistry: Ryan Austin
Presented to an outstanding student interested in the field of General Dentistry
Academy of Operative Dentistry: Alyssa Drake
In recognition of a student who has shown excellence in the field of Operative Dentistry
Academy of Osseointegration Implant Award: Andrew Burnette
Presented to a student who has demonstrated outstanding performance in dental implants
American Academy of Esthetic Dentistry: Megan Walker
To recognize a student who has demonstrated both clinical excellence and interest in esthetic dentistry
American Academy of Implant Dentistry: Dustin Osborne
Presented to a student who has demonstrated the most interest in implant dentistry
American Academy of Oral and Maxillofacial Pathology: Dustin Osborne
In recognition of a student who has shown interest and excellence in the field of Oral and Maxillofacial Pathology

American Academy of Oral and Maxillofacial Radiology: Jennifer Nguyen
In recognition of a student who has shown interest and excellence in the field of Oral and Maxillofacial Radiology
American Academy of Oral Medicine: Grace Garcia
Presented to a student who has shown excellence in the field of Oral Medicine and has a strong interest in treating medically compromised patients
American Academy of Pediatric Dentistry: Andrew Lusk
Recognizes a student who has shown excellence in the field of Dentistry for Children
American Academy of Periodontology: Demetra Malamatenios
Presented to a student who has excelled in the field of Periodontics
American Association of Endodontists: Pete Petrides
In recognition of a student who has demonstrated exceptional skill in the area of Endodontics
American Association of Dental Research: Pete Petrides
Recognizes the dental student who won the Annual Research Day student competition
American Association of Oral and Maxillofacial Surgeons: Ty Alderman
In recognition of a student who has demonstrated exemplary aptitude and achievement in Oral and Maxillofacial Surgery
American Association of Oral and Maxillofacial Surgeons Dental Implant Student Award: Grace Garcia
Presented to a student who has shown outstanding achievements in the study of implants and dentistry
American Association of Orthodontists: Stephanie Becker, Dustin Osborne
In recognition of a student who has demonstrated exceptional skill and interest in the development of the orofacial complex
American Association of Public Health Dentistry: Victoria Schmitt
Recognizes a student who has shown exceptional achievements in Community Dentistry and Dental Public Health
American Association of Women Dentists: Grace Garcia
Recognizes a female dental students who has sown leadership and high academic achievement
American College of Dentists: Pete Petrides
Presented to a student who best exemplifies the mission of the College which is to promote excellence, ethics, professionalism and leadership
American College of Prosthodontics: Alyssa Drake
In recognition of an outstanding student in the field of Prosthodontics who is interested in pursuing their dental education in a postgraduate Prosthodontics program
American Dental Society of Anesthesiology: Austin Willis
Recognizes a student who has shown exceptional proficiency in the field of anesthesia
American College of Oral and Maxillofacial Surgery: Andrea Cain
Presented to a student who has demonstrated exemplary aptitude and achievement in Oral and Maxillofacial Surgery
American Student Dental Association Award of Excellence: Pete Petrides
Presented to the student who shows outstanding leadership abilities and commitment to organized dentistry
International College of Dentists: Brooks Paine
Presented to a student who has demonstrated exceptional leadership
International College of Dentists Humanitarian Award: Bethany Linkous
Presented to student who has demonstrated exceptional public service commitment
Team Leader Recognition Awards: Ashleigh Graley, Jessica Sencindiver, Tim Hoover, Kendra Hornick
Hanau Prosthodontics Award: Caitlin Libby
Presented to a student who is displays the greatest skill in the field of removable prosthodontics
Dentsply Merit Award in Removable Prosthodontics: Caitlin Libby
Honors a student who has shown great proficiency in the field of removable prosthodontics
Delta Sigma Delta: Stephanie Gordon
Recognizes scholastic achievement in dentistry
Dental Alumni Association Clinical Competency: Demetra Malamatenios
Recognizes clinic competency in dentistry

Dental Alumni Association Robert Sausen Service Award: Rob Waldrop
Recognizes outstanding public service and commitment to the alumni association

Quintessence Book Awards: Mannhu Iglesias, Andrea Cain, Demetra Malamatenios
Awards honor students who have made outstanding contributions in the fields of Periodontics, Research and Restorative Dentistry (Mannhu pictured below.)
Southeastern Academy of Prosthodontics: Elyse Reihner
Recognizes an outstanding student in the field of prosthodontics
GlaxoSmithKline/WVU School of Dentistry Case Presentation Award: Rob Waldrop
Awarded to students who have shown excellence in case presentations
Delta Dental Leadership Award: Pete Petrides
Presented to a student who demonstrates outstanding leadership skills and comprehensive dental care