Dr. Meghan Turner joins WVU Department of Otolaryngology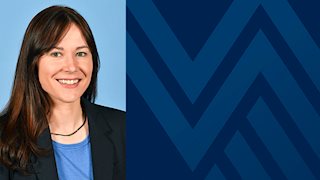 Meghan T. Turner, MD is a head and neck/skull base surgeon in the West Virginia Department of Otolaryngology-Head and Neck Surgery. She has particular interest and expertise in minimally invasive surgical techniques including endoscopic endonasal skull base surgery, robotic head and neck surgery, and transoral laser surgery.
Dr. Turner is board certified in otolaryngology-head and neck surgery. She is a Virginia native and attended the University of Virginia for her undergraduate studies. She then went on to obtain her medical degree from Virginia Commonwealth University School of Medicine, also known as Medical College of Virginia in Richmond. She completed her residency in otolaryngology at New York University School of Medicine in Manhattan followed by two fellowships at the University of Pittsburgh Medical Center in advanced head and neck surgical oncology and in open and endoscopic skull base surgery.
Dr. Turner is a member of multiple professional organizations including the American Medical Association, American Academy of Otolaryngology-Head and Neck Surgery, American Society for Head and Neck Surgery, and the North American Skull Base Society. She is the author of several book chapters, journal articles, and online video publications on open, endoscopic, and robotic techniques for the management of head and neck tumors and skull base pathology.
Dr. Turner's research interests lie in studying disease outcomes of novel techniques in treatment of tumors and other pathology involving the skull base and head and neck with the goal to advance individualized patient care that can be best tailored to their disease. Her areas of clinical interest include tumors and other conditions of the skull base, sinonasal tumors, orbital tumors, and cancer of the head and neck region for adult and pediatric populations. Specific pathologies include squamous cell carcinoma, oropharyngeal cancer, HPV-related tumors, nasopharyngeal cancer, EBV-related tumors, adenocarcinoma, adenoid cystic carcinoma, meningioma, craniopharyngioma, pituitary adenoma, hemangiopericytoma, esthesioneuroblastoma/ olfactory neuroblastoma, sarcomas, rhabdomyosarcoma, chondrosarcoma, and other benign skull base pathologies like cerebrospinal fluid leak, fibrous dysplasia, and schwannomas.