Exercise physiology student named 2018-19 Fulbright Scholar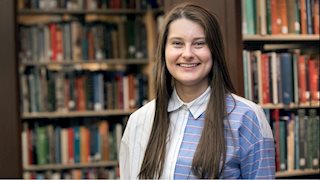 A record number of West Virginia University students have been named Fulbright Scholars this year, doubling the previous record of five.
The Fulbright Program, the U.S. government's flagship international exchange program, enables students to study, teach or conduct research while increasing mutual understanding between Americans and people of other countries.
"The success of this year's group of Fulbright applicants really speaks to the growing global vision of our students, to the interest they have in making a global impact, and in the preparation they are gaining here during their undergraduate education," said Ryan Claycomb, faculty adviser for the Fulbright Program. "If these students are representing West Virginia University to the world, then we are well represented indeed."
Of these students was the School of Medicine's own Savannah Lusk.
Lusk is deferring medical school to challenge herself with a year in Bulgaria. The exercise physiology major and Honors College student will be an English teaching assistant. Lusk, a native of Covel, is excited about the opportunity to educate and mentor students from a completely different background in order to bring that knowledge back to her home state.
"I loved the emphasis Bulgaria puts on community engagement. I plan to develop community service opportunities, coach soccer and supervise the speech and debate team because the key to improving my community is to immerse myself in other cultures and bring that knowledge back," Lusk said. "As a physician, you must be personable, adaptable, and willing to step out of your comfort zone. The Fulbright has given me an opportunity to gain a new perspective."
Learn about the other 2018-19 Fulbright Scholars here: https://wvutoday.wvu.edu/stories/2018/05/01/record-number-of-wvu-students-receive-fulbright-scholarships