Back to

News
Get your tickets today for the 2020 Bob Huggins Fish Fry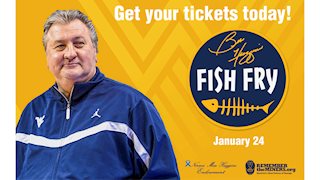 Don't miss out on the fun at the 2020 Bob Huggins Fish Fry! This exciting annual event will be held from 5:30-9:30 p.m. Friday, Jan. 24 at the Mylan Park Event Center in Morgantown. Coach Huggins will welcome special guest and WVU great Rod Thorn, along with other sports legends, for an engaging evening of fish and fellowship.
Get your tickets to enjoy fantastic food and drinks, live music, one-of-a-kind live and silent auction items, commemorative keepsakes and so much more! Tickets will be provided by mail following purchase.
Are you a whiskey fan? Tickets are also available for a signature bourbon tasting offered in three exclusive sessions: 5:30-6 p.m., 6:45-7:15 p.m. and 7:30-7:55 p.m.
Proceeds from the Fish Fry benefit the Norma Mae Huggins Cancer Research Endowment Fund and Remember the Miners Scholarship Fund. If you have already purchased your ticket – THANK YOU! By joining in the festivities, you are supporting groundbreaking cancer research and honoring the legacy of West Virginia coal miners. If you are unable to attend, please consider making a gift to support innovative research and top-notch patient care at the WVU Cancer Institute.
For more information, and follow our Facebook, Twitter and Instagram accounts @wvucancer for event updates. For all other inquiries about the Bob Huggins Fish Fry, please contact Cory Chambers at cdchambers@hsc.wvu.edu.