Health Sciences surplus moves online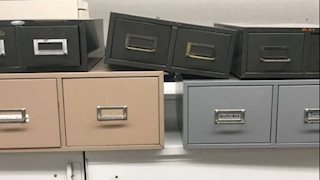 WVU Health Sciences is making it easier for offices to dispose of surplus University-owned furniture and equipment – and for University offices and programs to obtain and repurpose items previously used in other offices.
As part of the process improvement, the surplus storeroom on the ground floor has been eliminated. You can now browse and select surplus items online at any time, and request an appointment to inspect them if required. Items will be moved only once – from the office that no longer needs them directly to their new location.
To shop for a surplus item:
Use the new online listing to browse all furniture and non-computer related items available. A permanent link to the listing is on the HSC Facilities Management work request webpage.
If you find an item and want to claim it for your office or program, please click the "Request Item" button on the listing. Someone will contact you shortly.
To dispose of surplus:
As soon as you know you no longer need an item, complete this form to start the surplus process.
Please give enough advance notice as possible before the items need to be removed from your space.
We will list your item online while it is still in your space. This prevents unnecessary moves should another department or unit request your item.
You do not need to submit work orders for items to be picked up
Please do not leave items in hallways to be picked up.
If no one claims your item, Facilities Services will remove the item from your space.
Computers and related Items: