Immunology and Medical Microbiology student wins first place at Van Liere Research Conference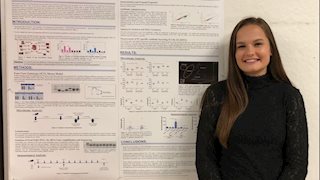 Andrea Pettit, a junior undergraduate student in the Immunology and Medical Microbiology program, was the winner in the Undergraduate Research Poster category at the 53rd Van Liere Research Conference held March 22-23 at the WVU Health Sciences Center.
Andrea works in the laboratory of Jennifer Franko, Ph.D. The title of her poster was "The influence of sex chromosome-specific gut microbiomes on a sexually dimorphic immune response." Her project utilized 16s rRNA sequencing and metagenomics analysis to evaluate differences in gut microbial communities between male and female four-core genotype (FCG) mice. Interestingly, her data identified both hormonal and sex-chromosome complement influences on gut microbiome diversity. Since the gut microbiome plays an important role in regulating immune homeostasis, such differences in microbiome diversity may contribute to the variances seen in male vs. female immune responses. Andrea investigated the influence of XX vs. XY sex-chromosome complement-specific microbiomes on immune responses to heat-killed Streptococcus pneumoniae immunization and propanil exposure.
Dr. Van Liere served as the Dean of the School of Medicine from 1937 until 1960. He developed the two-year medical school into a four-year accredited program. He was also a consultant to the Surgeon General of the United States. Van Liere Memorial Convocation and WVU Health Sciences Research Day is named in his honor.