John C. Byrd of OSU to present annual DeLynn Lecture September 4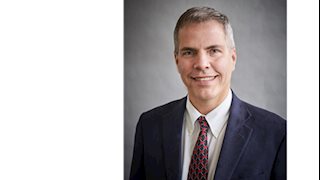 Discussion of targeted therapies in leukemia
John C. Byrd, M.D will lecture on targeted therapies in leukemia on Wednesday, September 4, 2019, in the Okey Patteson Auditorium (Health Sciences Center-North), at 4:00 pm. A Q&A reception will follow the lecture. The event is free and open to the public. For those who cannot attend, the event also will be webcast.
Byrd is an internationally known researcher and clinical specialist in leukemia and other hematologic malignancies at Ohio State's Comprehensive Cancer Center – James Cancer Hospital and Solove Research Institute where he serves as Senior Advisor for Cancer Experimental Therapeutics. He is a Distinguished University Professor of Medicine and Medicinal Chemistry and holds the D. Warren Brown Chair in Leukemia Research.
Dr. Byrd received his medical degree from the University of Arkansas for Medical Sciences. His education continued in hematology and oncology at Walter Reed Army Medical Center and Johns Hopkins University before moving to Columbus to join the faculty at Ohio State.
His research accomplishments relate best to studies done between the laboratory and clinic (translational work) with several different therapeutic agents active in chronic lymphocytic leukemia (CLL) and related leukemias and lymphomas. His work has shown that therapeutic agents such as rituximab, TRU-16, flavopiridol, dinaciclib, and the B-cell receptor kinase inhibitors (GS1101 and ibrutinib) are effective against CLL.

Dr. Byrd has been and continues to be active in developing therapeutic antibodies and other targeted agents in his pursuit of non-toxic therapies for leukemia. The basic science and clinical work of Dr. Byrd and his colleagues played a key role in the U.S. Food and Drug Administration's February 2014 approval for expanding the use of ibrutinib to treat certain patients with CLL.
We are honored to host Dr. Byrd at WVU and to give our colleagues an opportunity to have an interactive discussion about the future of this field " said Richard M. Goldberg, M.D., director of the WVU Cancer Institute. "John is a world-renowned hematologist and distinguished professor at OSU who developed ibrutinib from lab to bedside. This is a new drug that has dramatically changed the outcome for many patients with CLL and is now finding applications in many other cancers. His experience and unique insight will be very valuable to our practitioners and students."
The DeLynn Lecture Series was created from a generous gift to the WVU Cancer Institute - Mary Babb Randolph Cancer Center by Jean and the late Laurence DeLynn. Because of their generosity, we are able to attract some of the most prominent cancer advocates and scientists to the WVU campus for the benefit of the University and Morgantown community.
Jean and Laurence have touched the lives of countless individuals throughout the Morgantown area and beyond. When the DeLynns ran successful businesses in Morgantown, they also made a commitment to share their prosperity with the community. Their efforts continue to improve the health and welfare of others today, including those who benefit from the services provided by the Mary Babb Randolph Cancer Center.
The DeLynns have had a tremendous impact on the development and growth of the Cancer Center. Jean helped organize the first statewide fundraising extravaganza to have the Center built in Morgantown. In addition to the lectureship series, the couple established the Jean L. and Laurence S. DeLynn Chair of Oncology; the Laurence and Jean DeLynn Cancer Research Fellowship; and the Laurence and Jean DeLynn Professorship in Cancer. They also provided the seed money to establish the Cancer Information Service and the Blood and Marrow Transplant Research Program, the only program of its kind in West Virginia.
CONTACT: Lori Acciavatti; WVU Cancer Institute; 304-293-8460; wvucancer@hsc.wvu.edu