Kappa Psi members receive international recognition for their academic achievments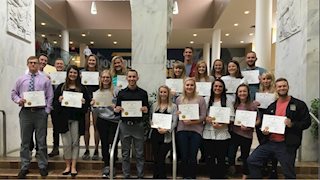 The largest professional pharmacy fraternity in the world is celebrating a group of students at the West Virginia University School of Pharmacy for their outstanding academic achievements.
Kappa Psi Pharmaceutical Fraternity recently awarded the Frank H. Eby Scholarship Tray to WVU's Beta Eta chapter. This prestigious award is given annually to the collegiate chapter with the highest percentage of its members earning scholarship honors certificates, which are awarded to students achieving a GPA of 3.0 and above.
The Beta Eta chapter of Kappa Psi was given this award out of 111 other chapters. The pharmaceutical fraternity chapter is co-ed and consists of 78 members.
"I am extremely proud of the members of Kappa Psi for achieving this prestigious award," said Clinical Associate Professor, Dr. Gretchen Garofoli. "They understand the importance of high academic performance as well as working to improve the lives of those in the community that we serve."
For their achievements, the students brought home a silver scholarship tray, and they will get recognition in Kappa Psi's national publication, THE MASK.
Kappa Psi Pharmaceutical Fraternity is the oldest and largest professional pharmacy fraternity in the world. The objectives of Kappa Psi include: to conduct a professional fraternal organization for the mutual benefit of its members; to develop industry, sobriety and fellowship; to foster high ideals, scholarship and pharmaceutical research; to support all projects which will advance the profession of pharmacy and to actively participate in them; to inspire in its members a deep and lasting pride in their Fraternity and in the profession of pharmacy; to render such other services to its members and its profession feasible and in accordance with the constitution and bylaws of the Fraternity.