Back to

News
Marsh to speak at South by Southwest Conference in Texas
March 13 event links health and behavioral science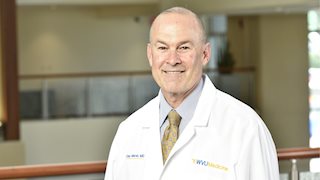 West Virginia University's chief health leader will participate in a discussion of new ways to approach the nation's drug crisis at the South by Southwest Conference (SXSW) in Austin, Texas, March 13.
Clay B. Marsh, M.D., WVU vice president and executive dean for health sciences, will be one of four panelists discussing "Hacking the Opioid Epidemic: How Behavioral Science Can Help Us Combat America's Most Pressing Health Crisis," from 12:30 to 1:30 p.m. March 13 in the Austin Convention Center.
At WVU, Marsh has mobilized resources to build signature programs of excellence in the areas of heart and vascular care, neuroscience, trauma and critical care, women's and children's health, and more. To address West Virginia's opioid crisis, he organized a Substance Abuse Task Force to coordinate and strengthen the activities of the University's patient care enterprise, research and teaching faculty, and administration. He also participated in the White House Symposium on the development of centers of academic excellence in addiction medicine, and has joined policy discussions with state and national leaders to advance these efforts.
Other participants in the event will be Karen Horgan, co-founder and president of VAL Health, a company that develops strategies to improve health through behavioral economics; Dr. Sandeep Kapoor, a member of the medical faculty at Hofstra University and director of Screening, Brief Intervention, and Referral to Treatment program at Northwell Health; and Sree Sreenivasan, a social and digital media consultant and trainer at Center 10 Consulting LLC who works with nonprofits, startups, companies and executives around the world.
For more information on the session see: https://schedule.sxsw.com/2018/events/PP76625.