MD student organization to raise money for Hearts of Gold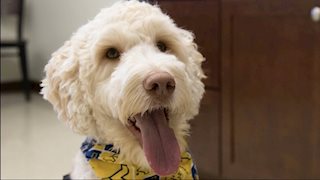 Medical students in Of the Mindful Physician are sponsoring a fundraiser to benefit Hearts of Gold, a charity that trains service and therapy dogs, including those working at West Virginia University.
The fundraiser, Pick 4 the Pup, involves a naming contest for a new litter of puppies that will eventually receive training to become service animals. For $1, donors can suggest a name for a puppy. At the end of the month, donors can give $2 to vote among the top five suggested names.
Donations can be made through Venmo, @Pick4ThePup, or on PayPal, at omphsc@gmail.com. Name suggestions should be added to the description.
Of the Mindful Physician is a student organization that explores the interactions between medicine and the arts and humanities to highlight ways that these interactions can affect how patients and physicians approach each other, as well as how they can benefit both groups.
To learn more about the fundraiser, Of the Mindful Physician or Hearts of Gold, stop by the information table at the Pylons on Friday, Jan. 12 at noon, or contact omphsc@gmail.com.