MEET OUR GRADS: Andrea Cain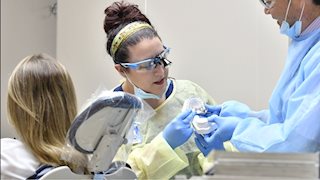 Andrea Cain appreciates clinical education experience at WVU
Andrea Cain is from New Martinsville, WV
How did you choose WVU and Morgantown?
West Virginia University was an easy choice. Being a West Virginian, I knew at an early age I wanted to be a Mountaineer. My grandparents recently celebrated their 62nd wedding anniversary, and some of their first dates were spent watching football at old Mountaineer Field in the 1950's. As a child, my mother returned to college and attended WVU College of Business and Economics. On some days she would allow me to tag along, ride the PRT, sit in on her classes, and we traveled to many football games in Morgantown. I had no doubt I wanted to attend WVU. I later realized the value of the education I received in my home state, and my clinical dental education at the WVU School of Dentistry is second to none. I moved to Morgantown in the fall of 2006. I went from a Magnolia High School graduate to a WVU Graduate to a Master of Physiology and Doctor of Dental Surgery. Twelve years and three degrees later, WVU allowed me to grow and made me the professional I am today.
What will you always remember about the dental school?
I will remember my classmates. Dental school is a very humbling and challenging experience. You see a side of yourself that only a few people will ever understand. At the end of the day, your classmates, your colleagues and your faculty are truly the only people who know what you are going through. I will remember my faculty, how I value their continued support and the clinical education they have provided me. Most importantly, I will always remember and I am very thankful for my patients, as they impacted my education and my life in many ways.
What would you tell yourself as a freshman?
Persevere. The adversity that you face today will only make you stronger tomorrow. Remember to take one day at a time and enjoy the journey. Take time for yourself, and relax! Keep in mind the big picture. It's easy to get caught up in the stress and rigors of dental school.
What's next for you?
I will begin a General Practice Residency at WVU this summer. I hope to eventually pursue advanced training in Oral and Maxillofacial Surgery. The American College of Oral and Maxillofacial Surgeons (ACOMS) recently appointed their first woman as the President and elected chief executive. I am very excited to see what a future in OMFS may have in store for me, and I look forward to serve the health and happiness of the people of my state.
What brought you to dentistry as a profession?
Honestly, I felt dentistry chose me. I really did not decide to pursue dentistry until I shadowed my uncle who is a dentist. I admire his positive role in the community, how his patients rely on his skill and knowledge. When I think of a dentist, I think of his efforts in demonstrating a selflessness that is a hallmark of the healthcare profession. I can confidently say that pursuing a career as a dentist is one of the best decisions I have ever made in my life. There are great opportunities, rewards, and the possibilities are endless. I'll be in a position where I can provide basic, quality, and reliable oral health care, while improving a person's appearance, health, confidence, and quality of life.