MEET OUR GRADS: Elly Myers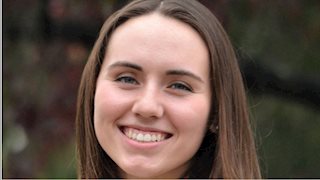 What will you always remember at WVU?
I will always remember when one of my professors dressed in unprofessional attire (fake face-tattoo and 6 inch heels included) to teach our class about professionalism while at WVU.
What would you tell your freshman self?
I would tell my freshman self to get to know your professors and get involved early to get the most out of your college experience.
What will your degree allow you to do?
My degree will allow me to improve the quality of life for my community and state.
What does public health mean to you?
I believe public health is the field of creating a healthy, safe, and sustainable environment for all people.
Why did you choose WVU?
I chose to come to WVU to continue my education because of the ample opportunities to become involved within the University and School of Public Health.
What is the best thing about the Public Health program at WVU?
One of the best things about the Public Health program at West Virginia University is the variety educational backgrounds of faculty, staff, and students within the school. It goes to show that no matter a person's background, everyone has a seat at the table when it comes to making our world a healthier and safer place. Additionally, the school provides many opportunities outside of the classroom. The school's faculty and staff are always willing to do what they can to help students gain research experience. Within the classroom, students can contribute to the field and participate in real life public health projects.
What's next for you?
Upon graduating, I will be working as a Project Coordinator within West Virginia University's Obstetrics and Gynecology Department through their Drug Free Moms and Baby Program. Alongside a recovery coach, we will be providing extra support and guidance to pregnant women coping with substance use disorders. Additionally, I will be working with the West Virginia Perinatal Partnership. Through this position, I get the opportunity to travel around the state to assist with the expansion of the state-wide Drug Free Moms and Babies Program to other healthcare sites around West Virginia to improve the health of moms and babies.