MEET OUR GRADS: Gabi Henry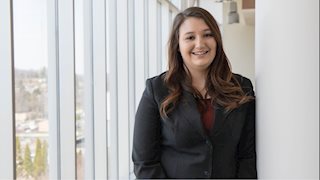 MPH Candidate, Epidemiology
What will you remember about your time at WVU?
I will always remember the people I met who have positively impacted my education.
What would you tell yourself as a freshman?
I'd tell myself to take advantage of more opportunities the school has to offer.
What will your degree allow you to do?
My degree will to purse my career goals and dreams.
What does public health mean to you?
Public health means education for prevention, promoting good health and improving the quality of health in communities throughout the world.
Why did you choose WVU?
I chose WVU because the Public Health program felt like the perfect fit for me. I always knew I wanted to help people and WVU has given me the resources to do so, through my program classes and applied experiences. Looking back, I am grateful I chose WVU because I would not have had access to certain opportunities anywhere else.
What's the best thing about the Public Health program at WVU?
The opportunities outside the classroom. I have made so many lasting connections through conference and events the School has invited students to attend.
What's next for you?
Pursue a career in Disaster Epidemiology.
Have you been involved in any groups here?
I am currently the President of the Student Association of Public Health (SAPH) and have been involved in the Delta Omega Honorary Society since my first semester at in 2016.