MEET OUR GRADS: Karla Davison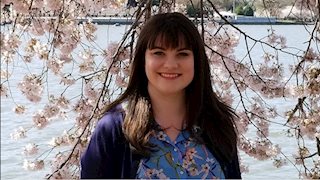 What will you always remember from WVU?
I will always remember my presentation at the 24th annual International Society for Research on Identity (ISRI) conference alongside Dr. Megan Smith. That was my first time doing research that wasn't for a class project and it was such an enriching experience. Dr. Smith was patient and held me accountable for the numerous steps involved in analyzing and presenting research. I love that WVU and the Public Health program gives their students the opportunity to attend international conferences to present research. It was a once in a lifetime experience and has contributed to my love of the research process.
What would you tell yourself as a freshman?
I would tell my freshman self to not worry so much. I was going to a community college back home my freshman year and I thought being undecided on my major was the worst thing that could happen. It wasn't until my gap year that I realized what public health was and how much I wanted to be a part of it. Society tells you that if you don't have your entire career planned out by age 20 that something is wrong. I wish I would have been kinder to myself and realized I just needed more experience to know what program I wanted to be in.
What will your degree from WVU allow you to do?
My degree will allow me to help advocate for a healthier future for everyone. Our society doesn't treat all populations fairly, but public health prioritizes equity in healthcare and health policy.
What does public health mean to you?
Public Health is the promotion and protection of the population's health in communities and environments. Those environments can be the workplace, at home, internationally, or anywhere really. By promoting healthy behaviors, it is the hope to prevent future illness, injuries, and suffering. To me, public health is the study and practice of compassion.
Why did you choose WVU?
I chose WVU because the Appalachian community was so hospitable when I visited campus the first time. I really enjoyed the university's focus on community and how we as students should always be looking for ways to serve those in West Virginia and beyond. Public Health depends on community outreach to learn about and help others; to have the entire university share that ideal was really special to me.
What is the best thing about the Public Health program at WVU?
The relationships you build with the Public Health administrators and professors is without a doubt the best part. Their experience and passion reflects in their teaching and inspires students to continue advocating for public health. I met with professors regularly for advice on class material and career paths. The opportunities they helped me secure showed me I was in the right program for me.
Were you involved in any groups or clubs?
I was involved in Dr. Mann and Dr. Smith's research group. This group paired students with instructors so that we could have firsthand experience with research. The opportunity allowed me to attend the 24th annual International Society for Research on Identity (ISRI) conference in Groningen, The Netherlands. I also obtained a scholarship from my high school in Frederick, MD due to my grades at WVU.
What's next for you?
After I graduate in May I am planning on studying for the GRE while gaining more experience in the workplace. I am hoping to find employment in Maryland while I decide which schools to apply to for my master's degree.