MEET OUR GRADS: Phat Huynh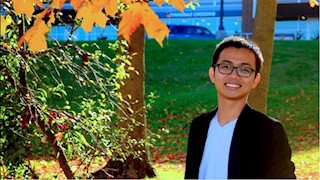 What will you remember from your time at WVU?
My friends in the Epidemiology MPH and Collegiate Recovery programs, riding on the PRT and the Student Recreation Center.
What would you tell your freshman self?
Be mindful and be grateful! Everything will work out well in the end.
What will your degree allow you to do?
As an international student, getting an MPH degree at West Virginia University will advance me in doing international work when I get back to Vietnam.
What does public health mean to you?
Public health is a basic human right that everyone deserves.
Why did you choose WVU?
I was inspired to study abroad by Dr. Neal Newfield and Dr. Susan Newfield, who have been doing social work and public health workshops in Vietnam for over 11 years. When I granted the Fulbright scholarship to pursue my MPH in the United States, I decided to apply to WVU School of Public Health.
What is the best thing about the Public Health program at WVU?
The Practice-based Experience. The course was allowed me to apply what I have learned and put the skills and knowledge into practical practice and research.
What's next for you?
I will be working for WVU Collegiate Recovery before returning to Vietnam. I will have the opportunity to create weekly programs that apply mindfulness in wellbeing for students in recovery at Serenity Place, and to coordinate workshops and trainings to the university community on mindfulness-based interventions for relapse prevention on a monthly basis.
What groups have you been involved with at WVU?
The Student Association of Public Health, West Virginia Public Health Association, Fulbright Scholar.