MEET OUR GRADS: Jacob Borror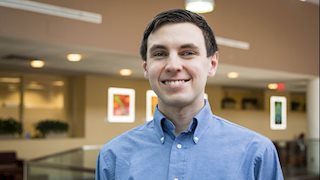 Medical laboratory science may not sound familiar to everyone, but you may have experienced its services if you have ever been sick. Medical laboratory science involves diagnostic laboratory testing from A to Z. Doctors make many decisions based on lab results, which play a vital role in nearly every medical field.
When Jacob Borror was in high school, he always enjoyed the laboratory components of his science classes. His interest was particularly focused in the fields of pathology and laboratory science for the integral roles they play in assisting both patients and their physicians. When it was time for the native of Kingwood, West Virginia, to choose a major for his undergraduate degree, it was the WVU's program in Medical Laboratory Science that stood out for numerous reasons.
"I chose WVU mainly to be close to home and for the wide variety of academic programs that it has to offer," Borror said. "Another reason was for the WVU band, which I was in for all four years in college."
Once accepted into the program, Borror found the instructors to be personable and exceptionally knowledgeable in their field of work. As graduation nears, he labels his experience as a medical laboratory science student as rewarding.
"My instructors, Kimberly Feaster and Jane Wade, have made huge impacts in my schooling," he said. "They taught me everything that I need to know about histology and medical laboratory science, in general. They have always been there when help was needed in any course and always encouraged us to take initiative to do our best in any situation whether it was classroom work, laboratory work or within our clinical rotations."
Borror is ready to conquer the work place as he will be employed as a histotechnologist at J.W. Ruby Memorial Hospital in Morgantown. He is also adamant about his desire to pursue graduate studies to fulfill his dream of becoming a pathologists' assistant.