MEET THE GRADUATES: WVU nursing graduate wants to be the voice for patients who need it most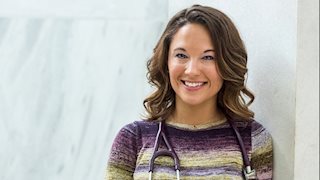 (Editor's Note: As commencement nears, WVU Health Sciences is featuring some of our most dedicated graduates. Here is the story of one of those students.)
If you ask Kat Deremer what she plans to do after graduating with her master's degree in nursing from West Virginia University, she is quick to tell you that her dream job is to one day drive a van around West Virginia as a nurse practitioner providing healthcare resources to those who need it most. It sounds simple, but in many rural communities, access to care is limited.
But Deremer, a native of Bedford, Pennsylvania, hopes to change that.
Her interest in rural healthcare started during her undergraduate studies on several trips to Africa where she and other health professions students provided medical resources to villages and remote towns. It wasn't until her graduate studies at the West Virginia University School of Nursing that Deremer realized the same care and resources were needed here in the state.
"When you're younger, you don't always see the need of those around you; you kind of live in your own bubble," Deremer said. "I was always thinking I'm going to go to impoverished areas in Africa and save people. And, while I am grateful for those opportunities, as I got older I realized that there are people right here in our own area who need our help just as much. There is no reason why anyone in our country should be without healthcare or help. I know I'm needed here."
Deremer plans to stay in West Virginia focusing on her passion for underserved populations and rural communities. Throughout her graduate studies, she was exposed to unique learning opportunities working with the homeless, uninsured, international residents and prisoners in a maximum security prison. It was through these experiences that she realized the important role our healthcare professionals play in providing much-needed services to these patients.
"If we have a way to build a community connection and truly help people before they get to that dire need of severe disease, disability or even death, we can potentially reverse some of the catastrophic health concerns that we have in our country today," said Deremer.
That is why she is passionate about finding a way to immerse herself in the communities who need care the most. Deremer feels everyone needs someone looking out for them, and she wants to be that person. "Through my experiences at the School of Nursing I have been given a desire to help people, and I'm going to use it," she said. "I want to be that voice for people who don't' have one."
During their studies, students often find defining moments, and for Deremer it was something simple. In caring for a patient with a substance abuse issue, she provided a routine exam and worked with the patient to provide the needle exchange resources offered at the clinic. At the end of the exam, the patient told her, "Thank you for treating me like a human being." It was another reminder of why that is extremely important to her – providing access to healthcare to everyone, no matter their circumstance. And, it's something she believes is easy to lose sight of on a day-to-day basis.
Deremer is also not numb to the healthcare issues of our country and knows that what medical professionals do daily can be overwhelming. She looks at her watch as a gentle reminder. Tattooed just below her watch on her left wrist is "Love the One." It's a saying that was painted on the orphanage doors in Africa where she volunteered in college. The owners placed that saying on the door when they realized the magnitude of the children they were trying to help. Realizing they weren't going to be able to save them all, they set out to help one child at a time. For Deremer, that remains her mantra.
"You want to save everyone and it can be overwhelming," Deremer said. "So, 'Love the One' has been the mantra I live by as a healthcare professional. You have to remember that if you make a difference in one person's life, you save one person's life or if one person was made better because of what you did, then everything you've ever worked for is worth it."
Read more about Kat Deremer.
For more information: Tara Curtis, 304-581-1772
tec