Public Health to graduate first undergraduate class in December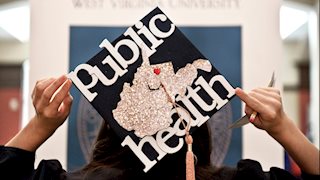 West Virginia University undergraduate students in the School of Public Health aren't just graduating this December—they are making history. These students are the first to earn a Bachelor of Science in Public Health at WVU.
Alexa Bean – a Morgantown native and one of the program's first graduates – says December Commencement feels even more special knowing she is a part of the class that is paving the way for others.
"It's an honor and a privilege to be a part of the first graduating class," Bean said. "Not many people can say they truly went first."
Bean had the opportunity to work with the WVU Injury Control Research Center this semester as part of her Professional Field Experience class, a required course for all undergraduate students. She assisted with the curriculum development for the Monongalia Safety Town-Safe Communities Collaborative, in addition to researching the effectiveness of injury prevention education targeted at children. She worked closely with Dr. Daniel Shook, director of the WVU Greater Morgantown Safe Communities Initiative.
"Alexa has a passion for learning and is always willing to help," Shook said. "She wants to make a difference in the lives of West Virginians."
For student Lauren Dirkman, finding the Public Health major finally made her feel at home. Lauren will also move the tassel on her graduation cap this month.
"I switched to Public Health at the start of my junior year, and it suddenly made sense why none of my other majors clicked," Dirkman explained. "My Public Health classes were interesting, and the faculty and staff really seemed to care about the success of the students. I had professors personally encouraging me, and it helped me really connect with the major." Lauren is considering graduate school to earn her Master of Public Health degree after she graduates this month.
The School of Public Health accepted its first internal transfer students to the undergraduate major in fall 2016 and its first new freshmen in fall 2017.
"Starting this new undergraduate program in 2016 was an exciting venture," said Janet Hunt, Assistant Dean for Undergraduate Studies in the School of Public Health. "The students quickly recognized the many career opportunities the field presents. It has been an honor watching these students find their passions, realizing that they are now agents of change and will be the ones impacting public health issues and improving the health of communities."
Bean, Dirkman and the other bachelor's degree candidates will "go first" during the WVU December 2017 Commencement on December 15, 2017, from 2:00 p.m. to 4:00 p.m. at the Coliseum. The ceremony will include master's and doctoral candidates as well. Students must register to walk in the ceremony by December 6.
Families of Public Health graduates are also invited to attend the School of Public Health's Graduate Acknowledgement Reception prior to Commencement from 10:00 a.m. to 12:00 p.m. at the Erickson Alumni Center in the Kennedy Club Room located on the 2nd floor. Those wishing to attend should RSVP to Leah Adkins at leadkins@hsc.wvu.edu.
odp/12/04/17