Back to

News
Public Seminar featuring MacArthur Genius Awardees
Reaching National Excellence in Research: Insiders' Perspectives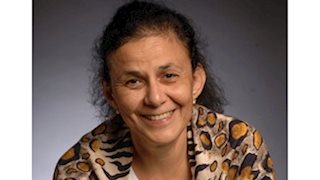 The WVCTSI will their External Advisory Committee next week. As part of their visit, two of the esteemed committee members, Dr. Wafaa El-Sadr and Dr. Bonnie Bassler, will host a public seminar focused on reaching national excellence in research. These two members have both received MacArthur Fellowships, Genius Awards, and can share their experiences and advice on reaching a presence on a national and international stage. This special event will take place Monday May 13th from 12:30-1:30 in G119B of the Health Sciences North Building.
RSVP to Sarah Haymond at sarah.haymond@hsc.wvu.edu
Bonnie Bassler, PhD, Chair, Molecular Biology, Princeton University
2002 MacArthur Fellow
Bonnie L. Bassler is a member of the National Academy of Sciences and the American Academy of Arts and Sciences. She is a Howard Hughes Medical Institute Investigator and the Squibb Professor of Molecular Biology at Princeton University. In 2012, Bassler was also elected to the Royal Society and to the American Philosophical Society. Bassler was the President of the American Society for Microbiology in 2010-2011. She is currently the Chair of the American Academy of Microbiology Board of Governors. She is a member of the National Science Board and was nominated to that position by President Barack Obama. Bassler's research is paving the way to the development of novel therapies for combating bacteria by disrupting quorum-sensing-mediated communication.
Wafaa El-Sadr, MD, MPH, MPA Professor, Department of Epidemiology and Medicine, Columbia University
2008 MacArthur Fellow
Dr. El-Sadr is a member of the NIH Fogarty International Center Advisory Board. In 2008, she was named a John D. and Catherine T. MacArthur Foundation Fellow, and in 2009, she was appointed to the National Academy of Medicine. In 2013, she was appointed University Professor, Columbia's highest academic honor. She also holds the Dr. Mathilde Krim-amfAR Chair in Global Health. In 2009, Rolling Stone magazine named El-Sadr in its list of "100 People Who Are Changing America." In the same year, she was also named as one of Scientific American 10: Guiding Science for Humanity. She is also a member of the Institute of Medicine of the National Academies. In November 2009, The Utne Reader named El-Sadr one of the "50 Visionaries Who Are Changing Your World. Dr. El-Sadr began her career as the HIV epidemic took hold in the United States. As chief of the Division of Infectious Diseases at Harlem Hospital, she developed successful methods for responding to HIV/AIDS through groundbreaking research and innovative models of care in her own community. Dr. El-Sadr became a leader in the global fight against HIV by arming health care systems in sub-Saharan Africa and Central Asia with effective strategies for confronting the impact of the epidemic and leveraging investment in HIV to strengthen health systems more broadly.