Rally builds excitement for Relay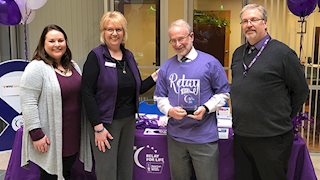 WVU Cancer Institute and WVU Medicine faculty, staff and students are gearing up for the 2018 American Cancer Society Monongalia County Relay For Life in June. During a Relay rally this past Friday in the Cancer Center Atrium, Cancer Institute Director Rich Goldberg, MD, told rally participants that the Cancer Institute has had a great relationship with the American Cancer Society over the years. "The ACS has provided services to our patients and funding to support our cancer research," Dr. Goldberg said. He urged rally participants to join him in walking around the track at the Relay on June 8-9 at Westwood Middle School in Morgantown and asked that they recruit others to participate. Mary Lough of the ACS presented Dr. Goldberg a crystal award for the Cancer Institute's presenting sponsorship of last year's Relay. Roger Williams and Lisa Keller of the inpatient pharmacy at Ruby Memorial received a ruby slippers award from Relay For Life Event Ambassador Dave Staten. Their Ruby Slippers team raised $5,000 for the 2017 Relay, the most raised by any Relay team in Monongalia County.
For questions about the 2018 ACS Monongalia County Relay For Life contact Dave Staten at statend@wvumedicine.org or call 304-598-4500, Ext 74520, or Kim Moats at moatsk@wvumedicine.org or call 304-598-4091.