Richard Funnell to join WVU Cancer Institute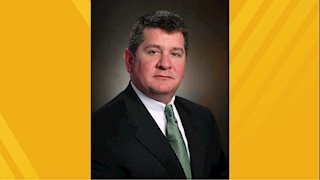 MORGANTOWN, W.Va. – WVU Medicine announced today (May 7) that Richard Funnell, M.H.A., F.A.C.H.E., C.M.P.E., a nationally recognized executive, will join the WVU Cancer Institute as vice president of cancer services on May 21.
"Richard brings a breadth of experience from multiple settings, and we are excited that he will channel his energy and use those skills to help us elevate our cancer program by bringing in new expertise and innovative services to better serve cancer patients, their families, and their caregivers in our state and region," Richard Goldberg, M.D., director of the WVU Cancer Institute, said.
Funnell said his focus will be on changing the way cancer care is delivered by focusing on the patient experience and delivering value by lowering costs and improving access through more efficient operations across the network. He plans to grow the program's capacity to serve a larger number of patients through fostering relationships across the state.
"It is really a privilege to be chosen as the vice president of cancer services at WVU Medicine," Funnell said. "Over the past 15 years, I have served as a cancer executive in both urban and rural communities, and I understand the challenge of managing the cancer burden that exists across the state of West Virginia with its geographic constraints. I look forward to serving the needs of cancer patients across the state of West Virginia and ensuring they have access to high tech, high touch cancer care throughout their treatment while staying close to home."
Funnell comes to WVU Medicine from the University of Pennsylvania Health System, Penn Medicine, where he served as chief administrative officer of the cancer service line and was responsible for the strategic direction and clinical operations of the Abramson Cancer Center, a National Cancer Institute Comprehensive Cancer Center (NCI-CCC), and the Penn Cancer Network. Prior to Penn Medicine, Funnell served as senior director of business development for oncology at Spectrum Health in Grand Rapids, Michigan, and as senior administrator for medical and pediatric oncology services at Roswell Park Cancer Institute, a freestanding NCI-CCC, in Buffalo, N.Y.
He completed a Master of Science in Health Administration at the University of Missouri, followed by an administrative fellowship at the State University of New York at Stony Brook University Hospital and Medical Center.
For more information: Heather Sammons, Communications Specialist, 304-285-7256