Sadlek named Nurse of the Year at WVU Medicine-WVU Hospitals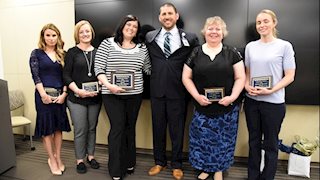 MORGANTOWN, W.Va. – Kristine Sadlek, B.S.N., R.N., has been named 2018 Nurse of the Year at WVU Medicine-WVU Hospitals. She was honored at the Nurse Recognition Luncheon held today, May 9, in celebration of National Nurses Week, which is celebrated May 6-12 annually.
Sadlek came to WVU Medicine from Duke University Medical Center in North Carolina on a leap of faith during a time that most nurses in the system had ties to West Virginia University or Morgantown.
Since her arrival, she has revolutionized vascular access nursing at WVU Medicine. Her knowledge has saved many lives from infection, and she has mentored other nurses not just at J.W. Ruby Memorial Hospital, but across the system.
"I have directly observed the professional growth and contributions this nominee has made for our patients and staff," Mary Fanning, D.N.P., director of nursing administration, said in her nomination. "As a clinical nurse providing vascular access care, she consistently contributes to our professional practice model."
Other finalists included Janet Griffin, B.S.N., R.N.; Laura Schmidle, R.N.; Rebecca Weidman, R.N.; and Tara Rozzo, B.S.N., R.N.-B.C.
WVU Medicine-WVU Hospitals has held an American Nurses Credentialing Center's Magnet® designation for excellence in nursing services since 2005.
The first national week of recognition for nurses was celebrated October 11-16, 1954, to observe the 100th anniversary of Florence Nightingale's mission to Crimea. National Nurses Week was first observed on the current dates, which coincide with Nightingale's birthday on May 12, in 1991, and it became an annual event in 1994.
For more information: Heather Sammons, Communications Specialist, 304-285-7256