School board donation to benefit cancer research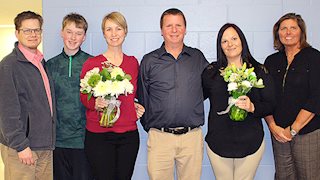 The Monongalia County Board of Education has made a donation to the WVU Cancer Institute to support clinical research.
Board members Dr. Clarence Harvey, Jr., Mike Kelly, Nancy Walker, Dr. Barbara Parsons, and Ron Lytle, along with superintendent Dr. Frank Devono and former board member Joe Statler, recently directed their gift to the Norma Mae Huggins Cancer Research Endowment Fund in memory of their friend and colleague Stephen Cook who passed away early this month.
Cook served on the board of education ten years, and served four years as executive board member to the West Virginia School Board Association and one year as president-elect. Additionally, Cook had ties to West Virginia University, including 23 years as a faculty member with the WVU Institute for Labor Studies and Research. He also enjoyed WVU basketball.
"The family is very proud of dad's accomplishments and hard work," members of Stephen Cook's family, said. "We would like to thank everyone for their stories and memories of dad, and also for the thoughts and prayers for us in this difficult time."
Pictured (L-R): Members of Stephen Cook's family Mike Radabaugh, Jaxon Radabaugh, Stephanie Radabaugh, Matt Cook, and Virginia Abbott, and Scarlett Schneider, PHD, senior director of development at the WVU Cancer Institute