School of Medicine's Scott Cottrell receives national award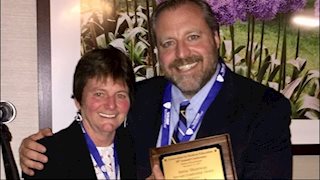 Scott Cottrell, associate dean for medical education at WVU's School of Medicine, recently received the Generalists in Medical Education's Servant Leadership award at the Association for American Medical College's 38th annual conference in Boston, Massachusetts in November.
The Generalists in Medical Education is an international professional organization that is dedicated to conducting research and providing support services in all areas of undergraduate, graduate and continuing medical education.
This national award is given annually to a leader in medical education who leads by serving first. The award is presented to a servant leader who is distinguished by encouraging, supporting and enabling others to achieve their goals.
The Servant Leader award was named in honor of Dr. James Shumway in 2015, who served as associate dean for medical education at West Virginia University for many years. Dr. Shumway passed away in October 2014.