Schwinghammer retiring from WVU School of Pharmacy; Slain named new chair of clinical pharmacy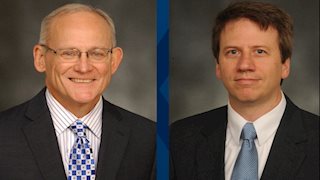 Dr. Douglas Slain, an infectious disease specialist and professor at the West Virginia University School of Pharmacy, will be appointed the new chairperson of the School's clinical pharmacy department. Slain succeeds Dr. Terry Schwinghammer, who will retire this spring.
In his new role as chair, Slain will be responsible for directing the department's missions in the areas of teaching, patient care, scholarship and service. Dean Bill Petros says Slain, who started as an assistant professor at the School of Pharmacy in 1999, has shown great dedication to the profession, the School and his students.
"Dr. Slain is well respected by colleagues and students alike. He has won multiple teaching and professional awards such as being honored as a Fellow in both the American College of Clinical Pharmacy (ACCP) and the American Society of Health-System Pharmacists (ASHP). Internationally, he has been an invited consultant to schools of pharmacy and hospitals in other countries," said Petros. "His involvement both inside and outside the classroom speaks volumes as to why he is the right person to fill this position."
In addition to his 19-year career in academia, Slain is an experienced researcher with practical experience in both community and institutional pharmacy. His research has been published in respected peer-reviewed journals, and he frequently speaks at regional, national and international conferences and meetings. He received his BS and PharmD degrees from Duquesne University in Pittsburgh, Pennsylvania. Slain will officially take over the role of chair after Professor
Schwinghammer's departure in early April. Schwinghammer is retiring after a 41-year academic career, 13 of which he served as chair of WVU's Department of Clinical Pharmacy. His teaching has focused on the development of patient assessment skills, communication skills and case-based learning. Schwinghammer has authored 90 journal publications and 29 book chapters. He created the "Pharmacotherapy Casebook," now in its 10th edition, and is co-editor of the widely used textbooks "Pharmacotherapy Handbook" and "Pharmacotherapy Principles & Practice."
"Thousands of practicing pharmacists owe Dr. Schwinghammer a debt of gratitude for his work over decades of service as a pharmacy professor," said Clay B. Marsh, M.D., Vice President and executive dean of health sciences. "Our students, who had the direct benefit of his teaching and mentorship, gained the most. But the entire profession benefitted from the learning tools he created and his work in regional and national pharmacy groups."
Schwinghammer has served in leadership roles for various professional pharmacy organizations and was named a Fellow in ASHP, ACCP, and the American Pharmacists Association (APhA). He was the 2017 recipient of the Robert K. Chalmers Distinguished Pharmacy Educator award from the American Association of Colleges of Pharmacy. Schwinghammer received his BS and PharmD degrees from Purdue University, which honored him with a a Distinguished Alumnus award in 2004.