Student and faculty international travel grants available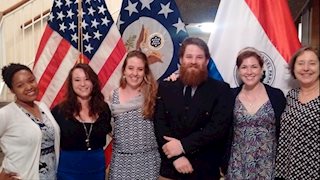 Nancy Sanders program deadline is Oct. 13
In honor of the legacy of a long-time staff member in WVU's Global Health Program, the Global Engagement Office (GEO) at Health Sciences is pleased to announce that the application period for the Nancy Sanders Memorial Student Travel Grant and the Nancy Sanders Memorial Faculty Research Abroad Grant is now open.
Sanders was instrumental in establishing WVU's highly successful and nationally distinguished Tropical Medicine Course. She enjoyed meeting people from all over the world, and she made every visitor feel welcomed and loved. In the same spirit of her tireless work, hospitality and kindness, the GEO administers these grants to support the development and cultivation of international collaborations for faculty and students.
Up to ten student awards of $2,000.00 each are available for the academic year. One of these ten student awards is prioritized for an outbound placement through the Global Health Learning Opportunities (GHLO) program of the Association of American Medical Colleges (AAMC). One faculty research award of $10,000 is available.
Applicant eligibility, program details, and application instructions can be found on the GEO webpage. The deadline for submission for both grant awards is Friday, October 13, 2017.
For more information, contact the GEO or email cwaybrig@hsc.wvu.edu; phone: 304-581-1820.