Vice President's Awards to honor outstanding achievement April 4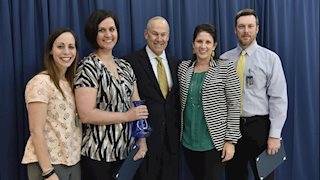 West Virginia University Health Sciences will be honoring 10 individuals and two teams at the Health Sciences Center for outstanding achievement Wednesday, April 4 at 4 p.m. in the Pylons Lobby. The ceremony is open to the entire Health Sciences community.
The Vice President's Achievement Awards are bestowed annually on people and groups who have made significant contributions to the missions of the University and their schools and units.
Winners were nominated by their peers and selected by the Achievement Awards committees.
Please join us in honoring these winners for the outstanding job they do on a daily basis:
Faculty Awards
Teaching Award – Dr. Andrew K. Shiemke, PhD, Associate Professor in Biochemistry in the School of Medicine
Research and Scholarly Activity – Dr. George A. Kelley, DA, FACSM, Professor in Biostatistics in the School of Public Health
Mentoring – Dr. James W. Simpkins, PhD, Professor and Director of Center for Basic & Translational Stroke Research
Service – Dr. Anne F. Cronin, PhD, OTR/L, Professor of Human Performance – Occupational Therapy in School of Medicine
Staff Awards
Administrative/Managerial Award – Lana Yoho, Post-Award Director in the Office of Research and Graduate Education
Clerical/Secretarial Award- Rhonda Shorr, Administrative Assistant in the School of Pharmacy Dean's Office
Service/Maintenance Award – Wendy Cress, Campus Service Worker and Michael Summers, Trades Specialist in Facilities Management
Professional/Non-Teaching Award – Summer Kuhn, Curriculum Research Associate in the Health Sciences and Technology Academy (HSTA)
Paraprofessional/Technician Award- Griselda "Ruby" Davila, Dental Assistant in Pediatric Dentistry
Team Awards
Team Achievement Award – Pharmaceutical Systems and Policy, WVU School of Pharmacy
Go First Award – Information Technology Service Desk
WISH (Women In Science & Health) Awards
Mid-Career – Hannah Hazard, MD, FACS
Women in Science and Health Advanced Career Award – Usha Sambamoorthi, PhD
US News & World Report National Ranking in 2017
Department of Urology
Health Sciences Volunteer of the Year
Seth A. Huggins