WVU health care simulation week kicks off Sept. 12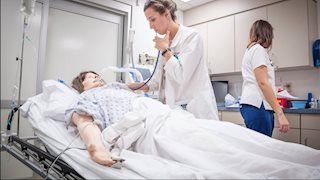 Everyone learns differently. Some are book-oriented, while others need hands-on experience. West Virginia University bridges these gaps and provides future healthcare professionals the best training thanks to the David and Jo Ann Shaw Center for Simulation Training and Education for Patient Safety (STEPS).
A nationally accredited facility at the WVU Health Sciences Center, STEPS is a premier simulation center that helps clinical learners improve their analytical, diagnostic, communication and crisis-intervention skills.
The space is set up like hospital rooms, complete with manikin posing as patients. The manikin can display neurological and physiological symptoms that optimize simulation training scenarios.
"All of the simulation models can be controlled electronically, their vital signs can be adjusted and medical emergencies can be simulated," said Russell Doerr, STEPS simulation specialist. "Based on students' actions, the simulation model can survive or die."
Emergency circumstances are not the only situations that get the simulation treatment. There are practice procedural rooms and simulated patients' rooms.
STEPS utilizes a variety of patient simulators capable of everything from trembling and crying, to bleeding or giving birth. The manikin can blink, breathe and has a heartbeat. On the other side of the the one-way mirror is the voice of the manikin, a simulation technician. Software controls the manikin, and it is programmable for nearly any scenario.
Students enjoy the experience of seeing how symptoms are presented in real world situations and how to best gain insights about medical history through communication with the patient and medical peers. Simulated crisis scenarios expose trainees to uncommon, high-risk conditions in the safe environment of the simulation center.
The STEPS operational team runs the simulators, providing smoother, more efficient experiences, and allowing faculty members to concentrate on teaching.
Customized clinical experiences are tailored to the level of each learner, from students to hospital professionals, helping to train the future health care practitioners that will take care of West Virginians. Inter-professional education is stressed. Nurses, pharmacists, physicians and other members of an integrated healthcare team train together, just as they perform in the health care setting. This integration enhances the educational experience for all professions involved.
Their learning management system enhances teaching and evaluation with video recording, enabling assessment of multiple surgical and procedural skills, as well as communication. Video capture of simulation sessions allows debriefing with an opportunity for reinforcement and remediation.
The Center was granted accreditation in the areas of teaching/education and assessment by the Society for Simulation in Healthcare (SSH) and the Council for Accreditation of Healthcare Simulation Programs. Communication and collaboration between the Health Sciences' schools were among the top strengths listed by the review committee.
STEPS will welcome visitors to a series of planned events from September 12 to 15.
WVU health care simulation week
Tuesday, September 12
Sim Week Ceremony at 3 p.m., Pylons area.
(Clay Marsh, MD; President E. Gordon Gee, Joyce McConnell, Provost & VP Academic Affairs)
Frozen yogurt bar will be provided
2:00 - 3:00 pm & 4:00 - 5:30 p.m. – Open Tour at WV STEPS
*Tours every 30 minutes starting at the Pylons.
Wednesday, September 13
Ortho Learning Center - STEPS Faculty Development at 12 p.m. (RSVP to thiser@hsc.wvu.edu)
1:00 - 4:00 p.m. – Open Tour at WV STEPS
*Tours every 30 minutes starting at the Pylons.
Thursday, September 14
Ortho Learning Center – WV STEPS Faculty Development Session at 8 a.m. (RSVP to thiser@hsc.wvu.edu)
1:00 - 4:00 p.m.- Open Tour at WV STEPS
*Tours every 30 minutes starting at the Pylons.
Friday, September 15
2:00 p.m. – Philanthropy Participant Event at WV STEPS
(Students for Escorting Tours/Open House)

Contact:
Tara Scatterday
WVU School of Medicine
Director, Communication and Marketing
tdscatterday@hsc.wvu.edu
304-293-0630