WVU Heart and Vascular Institute offering technology-enabled smart clinics for cardiology patients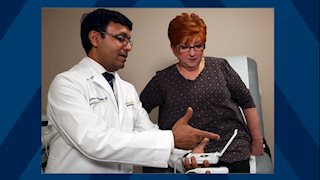 MORGANTOWN, W.Va. – Patients at the WVU Heart and Vascular Institute's Cardiology Clinic in Morgantown might be surprised to see their doctors walk into the room with a pocket ultrasound instead of a stethoscope – a feature of the Institute's technology-enabled smart clinic, which bridges the traditional practice of medicine with the latest technology to provide patients with more personalized care.
"Any technology that can automate the system so that the doctor can spend more time with the patient and be more precise in estimating the disease, that's what the smart technology clinics are all about," Partho Sengupta, M.D., chief of Cardiology and chair of Cardiac Innovation at the WVU Heart and Vascular Institute, said. "Any technology that accelerates the clinical decision making and taking care of patients faster, more efficient, and with more confidence is what this marketplace is all about. As clinical researchers, we have been leaders to provide clinical evidence that technology-enabled clinics improves patient care and saves patient lives."
Sengupta and colleagues were the first to do a randomized clinical trial was published in the Journal of American College of Cardiology: Cardiovascular Imaging that showed the value of new miniaturized smart-phone enabled technologies in resource-constrained environments to be successful in taking care of patients referred with complex structural heart diseases. In light of the WVU Heart and Vascular Institute's leadership in technology-enabled smart clinics, the American Society of Echocardiography awarded Sengupta a grant to host an event in October to train other providers on how to utilize smart technology in their own clinics.
Patients experience the benefits of the smart clinic firsthand because their doctors are able to perform diagnostic exams, like ultrasounds, on the spot and directly examine the heart. Physicians can make recommendations for drug therapies or interventions in one appointment rather than have the patient undergo multiple visits for imaging and other follow-up appointments.
"With the pocket ultrasound, you can put it on the patient's chest and directly examine the heart, and you don't have to imagine about whether the valves are moving or not moving or whether the blood is leaking or not leaking. You can actually image the heart working, and you can determine how severe the problem is and take it from there," Dr. Sengupta said.
Sengupta said this is especially important for patients who present at their first appointments with more advanced stages of heart disease.
"The first visit when the patient meets the doctor is one of the most crucial events in their lifetime. That one visit has to provide them with full confidence and has to provide the physician the precision of how patients need to be taken care of; it helps developing the patient-doctor relationship and the trust and confidence," he said. "That's what smart enabled technology can provide us."
For more information on the clinical trial, visit https://www.tctmd.com/news/mobile-health-technologies-may-boost-diagnosis-care-patients-structural-heart-disease.
For more information: Angela Jones-Knopf, Manager of Media Relations, 304-285-7259