WV's HSTA named to state's "Living the Dream" service honor roll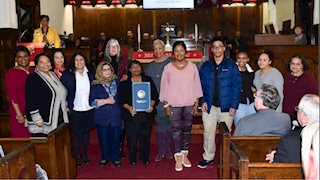 West Virginia's Health Sciences and Technology Academy – better known as HSTA—has earned the Living the Dream Service Organization Honor Roll.
The award is given by the state's Martin Luther King, Jr. State Holiday Commission. Award recipients are selected for having demonstrated one or more of the principles for which Dr. Martin Luther King stood: the promotion of human and civil rights, aiding underserved communities and the promotion of tolerance and resolving conflict in a nonviolent manner.
Representatives from HSTA received the award during the annual Martin Luther King, Jr. Celebration in Charleston on Monday, Jan. 21.
The one-of-a-kind mentoring program helps West Virginia's high school students succeed in health care and other STEM-based undergraduate and graduate degree programs.
HSTA was initiated in 1994 as a campus/community partnership program to reach out to 9th-12th grade under-represented students around the state and support them towards college and professional school. The program began with 44 students and now serves 750 participants in 26 counties, with an alumni base of 2,700.
For more information, visit wv-hsta.org.
-WVU-
jn 1/23/19
CONTACT: Cassie Thomas
WVU School of Medicine, Director of Marketing and Communications
304.293.3412, cassie.thomas@hsc.wvu.edu