WVU invites statewide entrepreneurs to participate in NSF I-Corps training program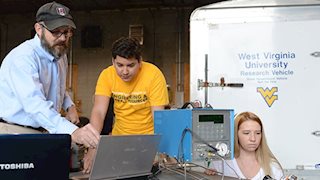 MORGANTOWN, W. VA. – West Virginia University invites all entrepreneurs, researchers and students from across West Virginia to participate in the National Science Foundation Innovation Corps (I-Corps) training program which will help prepare participants to accelerate their cutting-edge technologies and products into the marketplace.
Guided by trained instructors, this will be WVU's third cohort of NSF I-Corps training. Participants will identify opportunities that can evolve from academic research, gain business skills, test business models and test hypotheses about customers in the real world to ensure products have a strong market demand prior to commercialization.
"As WVU remains committed to building a robust, statewide ecosystem of entrepreneurs and innovators, we encourage not only WVU faculty and staff to take advantage of this training, but all West Virginia entrepreneurs, innovators, researchers and tech experts to learn the process of commercializing their advanced technologies, discoveries and innovations," said Randy Quinn, an I-Corps instructor in the WVU Office of Technology Transfer. "This training will serve as an entrepreneurial boot camp for participants to discover what it's like to take a product to market. It will ultimately help determine whether their idea can be successful with customers."
The third cohort of the I-Corps training will take place September 20 through October 5, 2019. Those interested to learn more about the program or apply for the next cohort should reach out to Randy Quinn at randolph.quinn@mail.wvu.edu. The deadline to apply is September 6, 2019.
-WVU-
Kf/07/15/2019
CONTACT: Randy Quinn, Evansdale Innovation Center; randolph.quinn@mail.wvu.edu