WVU Medicine Berkeley Medical Center receives trauma verification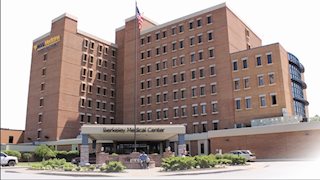 MARTINSBURG, W.Va. – The trauma center at WVU Medicine Berkeley Medical Center has been re-verified as a Level III Trauma Center by the Verification Review Committee, an ad hoc committee of the Committee on Trauma (COT) of the American College of Surgeons (ACS). This achievement recognizes the trauma center's dedication to providing optimal care for injured patients.
Established by the American College of Surgeons in 1987, the COTs Consultation/ Verification Program for Hospitals promotes the development of trauma centers in which participants provide not only the hospital resources necessary for trauma care, but also the entire spectrum of care to address the needs of all injured patients. This spectrum encompasses the pre-hospital phase through the rehabilitation process.
"This verification is a culmination of the extraordinary work by our team of physicians, nurses, and other clinicians and their shared goal of providing the best possible trauma care to area residents," James Carrier, M.D., medical director of trauma services, said. "It's a coordinated effort among multiple departments at Berkeley Medical Center and emergency medical service providers to ensure a rapid response for delivering care to injured patients."
Verified trauma centers must meet the essential criteria that ensure trauma care capability and institutional performance. The ACS Committee on Trauma's verification program does not designate trauma centers. Rather, the program provides confirmation that a trauma center has demonstrated its commitment to providing the highest quality trauma care for all injured patients.

As part of the verification process, each hospital has an on-site review by a team of experienced site reviewers who conduct the survey. There are five separate categories of verification in the COT's program, each with specific criteria that must be met.
Berkeley Medical Center's emergency department was first designated as a Level III West Virginia Trauma Center in 2004. It was one of three hospitals in the state of West Virginia to receive a Level III designation.
According to Donnie Grubb, trauma coordinator, certified physicians and nurses are available 24 hours a day, 7 days a week. They are supported by an organized resuscitation team, which includes continuous general surgical, orthopaedic, neurosurgical, and other specialty services.
In addition to providing a certain level of care, Berkeley Medical Center's trauma center is also involved in prevention activities. An active outreach program has been established for its referring communities, and it conducts educational programs for nurses, physicians, and allied healthcare providers involved with trauma.
"Verification as a Level III Trauma Center recognizes Berkeley Medical Center's continued commitment to provide high-quality care and improved patient outcomes," Anthony P. Zelenka, president and chief executive officer, said. "We commend Donnie Grubb, Dr. James Carrier, and the entire team of professionals for their demonstrated commitment to provide superior trauma services to residents of the Eastern Panhandle."
For more information: Teresa McCabe, Vice President Marketing and Development, 304-264-1223