WVU Medicine breaks ground for Waynesburg clinic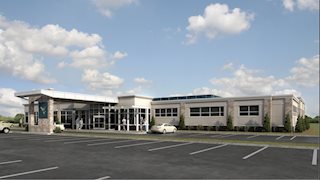 MORGANTOWN, W.Va. – WVU Medicine officials broke ground today (May 11) for a new clinic to be built on Murtha Drive in Waynesburg, Pa., off exit 14 of I-79.
"We believe in and understand the importance of providing the right care to the right patient at the right time and place, and we believe that now is the time to create an easier connection between our providers and the people of Greene County," Judie Charlton, M.D., WVU Medicine chief medical officer, said. "Nobody should have to travel a great distance to receive high quality primary and specialty care, and that's why we're bringing our providers to Waynesburg."
The $13.8 million, 24,300-square-foot outpatient center will include 21 exam rooms and five procedure/specialty rooms. It will employ 25 people.
Approximately 15,000 square feet will house the following WVU Medicine clinics:
Another 3,700 square feet will be occupied by MedExpress Urgent Care, and the remaining 5,600 square feet will be shell space for future growth. There will also be an additional 17,440 square feet of land that could be used for future expansion.
"We built outpatient centers like this one right off of I-79 in Morgantown and Fairmont, and they have been a win-win for us and our patients. They helped us alleviate some of the congestion on our main campus in Morgantown, and they provided our patients with convenient access to our primary care and specialty providers," Darin Rogers, vice president and chief ambulatory operations officer of WVU Medicine-WVU Hospitals, said. "Our goal is for this outpatient center in Waynesburg to provide residents of Greene County and the surrounding area with the same convenient access to our providers."
The building is scheduled to open in fall 2019.
For more information: Angela Jones-Knopf, Manager of Media Relations, 304-285-7259