WVU Medicine J.W. Ruby Memorial Hospital officials issue reminder to visitors who display flu symptoms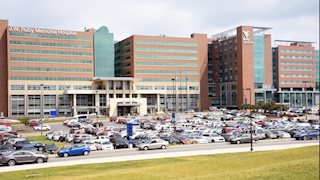 MORGANTOWN, W.Va. – In an effort to prevent the spread of flu, officials at WVU Medicine J.W. Ruby Memorial Hospital are reminding friends and family members who may have symptoms such as fever, cough, sore throat, runny or stuffy nose, body aches, headaches, chills, or fatigue, to avoid visiting patients.
"We are starting to see an increase in flu cases. While we have not crossed the threshold for high activity in West Virginia, increased penetration is being noted and bordering states are starting to report widespread activity," Ronald Pellegrino, M.D., chief operating officer at WVU Medicine J.W. Ruby Memorial Hospital, said.
Visiting hours at Ruby Memorial Hospital are 8 a.m. to 9 p.m. All visitors are required to register and obtain a visitor's badge before entering patient areas. The registration desk is on the first floor, east lobby of Ruby.
Visitors will be limited to two per patient at any given time. Children under the age of 12 are discouraged from visiting the hospital.
All visitors are encouraged to wash their hands frequently.
Special circumstances may occasionally occur when the rules may be waived.
"It looks like this could be a potentially tough flu season. These are our initial steps; we will adapt as needed," Dr. Pellegrino said. "I believe it is in our best interest to err on the side of caution to minimize the potential impact on our patients and our ability to provide patient care."
For more information: Angela Jones-Knopf, Manager of Media Relations, 304-285-7259