WVU Medicine physicians encourage patients to utilize their local urgent care centers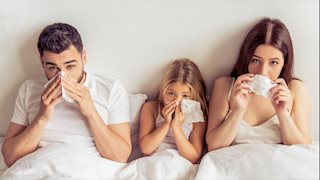 MORGANTOWN, W.Va. – With the number of influenza cases rising every day, physicians at WVU Medicine J.W. Ruby Memorial Hospital's Emergency Center and WVU Medicine Urgent Care encourage those seeking treatment to utilize their local urgent care centers when possible.
"We want to take care of our patients in the right place at the right time," Carmen Burrell, D.O., medical director of WVU Medicine Urgent Care, said. "For people who are generally healthy and are experiencing upper respiratory and influenza-like illness symptoms, we encourage you to seek treatment at Urgent Care, so that the sickest of the sick can be treated at our Emergency Center."
WVU Medicine Urgent Care operates three locations – two in Morgantown (Evansdale and Suncrest) and one in the WVU Medicine outpatient clinic located near the Fairmont Gateway Connector. For more information on locations and hours, visit www.wvumedicine.org/urgentcare.
However, patients who are at high risk for serious flu complications – younger and older patients (under age 6 or over age 50); pregnant women; and those with significant chronic medical conditions, such as heart, lung, or kidney problems – should go to the Emergency Center.
"People in these populations are getting hit particularly hard by the flu this year, and many of them are requiring hospitalization," Owen Lander, M.D., medical director of the Ruby Memorial Emergency Center, said. "They require a higher level of care and observation and should go to their nearest Emergency Department."
This reminder comes on the heels of last week's announcement that visitation restrictions have been put into place at Ruby Memorial.
Friends and family members who may have symptoms such as fever, cough, sore throat, runny or stuffy nose, body aches, headaches, chills, or fatigue should avoid visiting patients.
Visiting hours at Ruby Memorial Hospital are 8 a.m. to 9 p.m. All visitors are required to register and obtain a visitor's badge before entering patient areas. The registration desk is on the first floor, east lobby of Ruby.
Visitors will be limited to two per patient at any given time. Children under the age of 12 are discouraged from visiting the hospital.
All visitors are encouraged to wash their hands frequently.
In addition, WVU Medicine physicians encourage those who have not already done so to get the flu vaccine. While the vaccine may not prevent everyone from getting the flu, it can substantially reduce the severity of the virus for those who do contract it.
For more information: Angela Jones-Knopf, Manager of Media Relations, 304-285-7259