Back to

News
WVU Pharmacy alumna and colleagues honored by APhA Foundation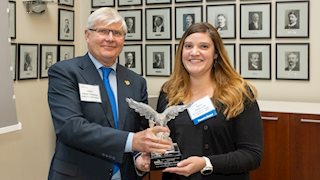 The American Pharmacists Association (APhA) Foundation is recognizing a West Virginia School of Pharmacy alumna for making childhood vaccinations a priority in her state.
Dr. R. Kylea Goff and her team recently earned the 2019 Pinnacle Award in the Government Agency-Nonprofit Organization Association category. The recipients were honored during a ceremony on September 16, 2019, at APhA headquarters in Washington, D.C. The Pinnacle award recognizes those whose contributions to the profession of pharmacy are helping to transform and elevate patient care.
Goff, and clinical pharmacist, Dr. Heather Lefebvre, teamed up with two physicians to create the Norton Sound Region Children's Coalition. This group works towards reducing healthcare barriers and advocacy for childhood vaccines.
The Norton Sound Region covers a very remote area of Alaska. With traditional health care difficult to accomplish, the Norton Sound Health Corporation provides care to Nome and 15 surrounding village communities that make up the Norton Sound Region.
Since the start of this mission in 2017, the team has seen increased completed vaccination series from 24% to 47%. More than 70 children were seen and 212 vaccinations were administered in the village community of Shishmaref, Alaska.
The Norton Sound Region Children's Coalition will continue to decrease barriers and provide immunizations throughout the region to decrease the risk of complications from vaccine-preventable disease.
The APhA Foundation is a nonprofit organization based in Washington, D.C., working to improve health by inspiring philanthropy, research and innovation that advances pharmacists' patient care service. For more information, please visit the APhA Foundation website www.aphafoundation.org.