Back to

News
WVU student pharmacists participate in rural health immersion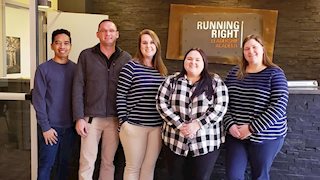 Fifty of West Virginia's 55 counties have a shortage of health professionals or are medically underserved. The West Virginia Area Health Education Centers (AHEC) is attempting to address the issue by providing scholarships for students who are studying healthcare in the Mountain State.
This year, 71 students from across the state were accepted into the Rural Community Health (RCH) Scholars program. During the second week of January, three West Virginia University School of Pharmacy scholars and a PhD student from the WVU School of Public Health were among a group who attended a three-day immersion training to learn about chronic disease management in rural communities. The student pharmacists are Emma Platt, P3; Kayla Rose, P3; and Rudi Safarudin, 3rd year, PhD student.
The interdisciplinary program included community-based experiential and clinical learning activities. Students traveled to Cabin Creek Health Systems in Kanawha County to discuss infectious disease and treatment as well as community development and health systems. Later they attended a panel discussion on medical outreach at the Sunnyside Health Center in Kanawha City and participated in an outreach event that provided patient screenings for Hepatitis C, Hepatitis B, and HIV. Also, students toured the Running Right Leadership Academy in Boone County, where they visited a mine training shaft. Afterward, they talked about disability litigation, spoke with a pulmonary patient and learned about treating Black Lung disease.
As part of the AHEC's Scholars program, students must complete 40 hours of community-based experiential or clinical training in a rural or underserved area.