WVU physicians volunteer, perform free corrective surgery in Haiti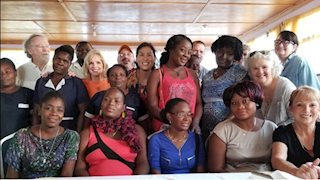 A group of 10 providers, eight from WVU Medicine, visited Pignon, Haiti, in March to deliver much-needed care to 30 patients. The group was part of Interplast West Virginia, Inc., an all-volunteer program in which physicians perform free surgery repairing facial, hand or other deformities and burn scars of patients in Third World nations.
The group included WVU Medicine physicians Aaron Mason, M.D., and Cristiane Ueno, M.D.; certified registered nurse anesthetists (CRNAs) Woody Dennison and Alice Lorenze; RNs Jay Bowers, Lucy Pierce, Linda Foster, and Libby Hupp, and local physicians Lynn Broadman, M.D., and David Fogarty, M.D.
The group operated on patients who needed surgery and care to correct cleft lips, burn contractures, open wounds of the ankles, hands, and more.
"Many of the patients we treated traveled long hours to receive care they would not have received if it weren't for the compassion and caring of our group," Dr. Fogarty said. "Faces have been improved, hands have been made functional, and lives have been changed. "
Within the next six months, members of the team will travel to Matagalpa, Nicaragua and Lesotho, Africa to help others.
"This truly represents the spirit of West Virginians caring for their fellow man, making a difference to our less fortunate global neighbors," Fogarty said.
Interplast, West Virginia, Inc., is in the process of coordinating an annual trip to Haiti.
A team of West Virginians also traveled to Haiti to assist with the treatment of medical problems incurred during the major earthquake in Port au Prince in 2010.