Back to

News
WVU School of Medicine names Navia Chair of Geriatrics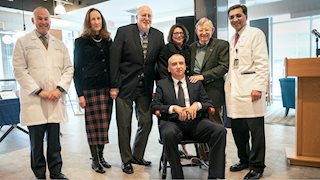 R. Osvaldo Navia, M.D., assistant professor in the West Virginia University School of Medicine's Department of Medicine, has been named the Grace Kinney Mead Chair of Geriatrics.
Dr. Navia was officially presented with his chair during an investiture ceremony at the WVU Health Sciences Center on Friday, March 8.
Known for his leadership within the Department and for his expertise in geriatric and palliative medicine, Navia's vision for geriatrics is complimented by the opportunities provided through the chair fund.
"While life expectancy has increased for West Virginians, it still remains slightly lower than the United States average," Navia said. "We need to improve our geriatric system and attract more geriatricians to work as primary care physicians. The endowed fund clearly helps us to develop systems and educate future doctors."
Navia has maintained continuous practice in geriatrics, palliative medicine and hospital medicine through academic settings, as well as publication of his research in medical journals, such as the Journal of the American Geriatrics Society as well as the Journal of the American Medical Directors Association.
"This endowed chair is a perfect example of how our land-grant medical institution continually assesses and strives to meet the needs of our state's population," said Clay B. Marsh, M.D., WVU Health Sciences vice president and dean of the School of Medicine. "Through Dr. Navia's work and vision we will continue to expand opportunities for education and care."
Navia joined the School of Medicine in 2016 as chief of the Section of Geriatrics, Palliative Medicine and Hospice. He earned his medical degree from Universidad de San Francisco Xavier in Bolivia, before completing a residency in family medicine at New York Medical College at Saint Joseph's Medical Center. He then completed a fellowship in geriatrics at the Albert Einstein College of Medicine at Montefiore Medical Center in New York.
The Grace Kinney Mead Chair of Geriatrics was established in 1994 by Grace K. Mead to benefit the School of Medicine and honor David Z. "DZ" Morgan, M.D.
Dr. Morgan was a physician and community leader who served the citizens of West Virginia with his heart and hands for more than 30 years.
For more information on the WVU Department of Medicine, visit medicine.hsc.wvu.edu/medicine.
-WVU-
cat 3/19/19