Services
Transforming West Virginia
The Office of Health Affairs staff is well positioned to deliver exceptional support to mission-driven organizations. Through strong partnerships, we're able to share our expertise and deliver services that will strengthen your programs and initiatives. We endeavor to build a healthier West Virginia through successful collaborations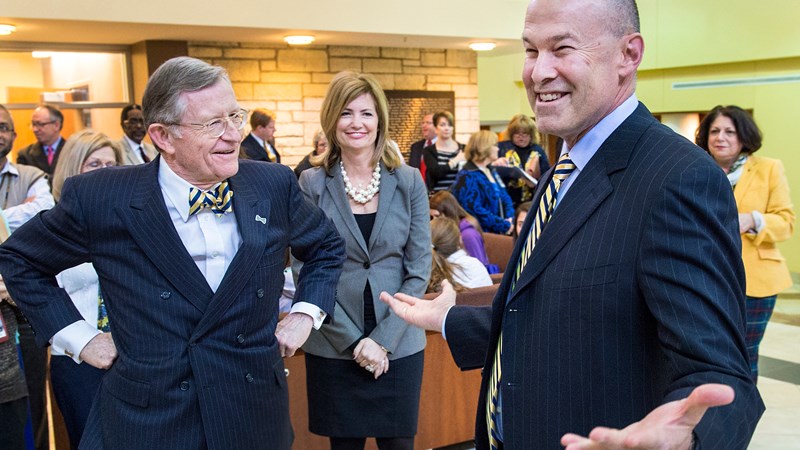 Program Development and Management
The Program Development and Management Office delivers professional program management support throughout the project lifecycle, facilitating the effective delivery of all programs for our local, state and national partners. All program managers are masters prepared subject matter experts, certified in project management, with diversified backgrounds in health services. We serve as a resource for partners needing program management support, offering robust services facilitated by a collaborative, solution-driven team that executes across environments consisting of high-level stakeholders and complex organizational structures.
Program Evaluation
Our Program Evaluation professional experts are highly experienced in developing and implementing effective program evaluations at both state and national levels. The team works closely with our partners to understand programmatic gaps, helping to overcome these gaps through data-informed solutions. These solutions include assisting our partners with building processes that ensure data-driven program implementation, monitoring and strategic planning. Our team guides program improvement activities that lead to impactful health outcomes for our communities, by providing a professional understanding of how to synthesize data with practical experience.
Health Data Analytics
Our Health Data Analytics team turns data into action. Our team leverages data, models, analytic methods and tools to solve challenges and derive actionable insights that improve healthcare delivery and lower costs by objectively assessing program performance. Our skilled team of data analysts generate accurate reports that translate your data into meaningful solutions to support timely, effective decisions and actions. Our data analytics team helps with data aggregation, management, analysis and interpretation. The Health Affairs data experts also specialize in Medicaid claims data analysis, offering targeted support to Medicaid agencies in building and strengthening data analytic capacity. Additional analytic services provided by our team includes service utilization, cost of care analysis and modeling estimates to inform the impact of programs and services on total cost of care and service utilization. The impact of our health data analytic services includes well-designed analytic strategies that improve programmatic decision-making, and ultimately, the delivery of essential health services for West Virginians.
Health Survey Design and Primary Data Collection
The Office of Health Affairs is staffed with professional experts highly proficient in developing and implementing health surveys and collecting primary data from targeted, hard-to-reach populations. Our team's in-depth knowledge of the cultural nuances, geographic and technological challenges specific to our West Virginia population, and methods to overcome these challenges, makes us the ideal partner to help meet your program's data collection needs. The Health Affairs team partners with various WVU faculty who offer exceptional experience in developing and implementing health studies that assess health behaviors, risk factors and social foundations of health. Our aptitude for primary data collection spans both quantitative and qualitative methods, offering services in developing and implementing health surveys, focus groups, key informant interviews and case series studies. The impact of these services is the delivery of primary data collection through culturally relevant and appropriate contextual settings that facilitates collection of valid and meaningful information from our West Virginia population.
Policy Research
Our Policy Research team provides professional expertise in designing policies that effectively address the changing needs of West Virginians. Health policy research shapes communities by informing the development of data-driven policy solutions that address population health challenges. These data-driven policy solutions are informed by community needs assessments, environmental scans, and technical expertise. The Health Affairs team uses these data sources to deliver expert-level, policy lifecycle support. The impact of this support benefits our partners with achieving improved, policy-guided, health outcomes for the communities they serve.
Research Support & Technical Assistance
Our research support services are guided by experts in research design, data analysis and statistical modeling, as well as a vast array of expert faculty representing various health disciplines. Our team implements a meticulous process of collecting, analyzing, and reporting data in order to develop an evidence base able to guide data-informed decision making for our partners. These services include: but are not limited to, grant writing, comprehensive literature reviews, meta analyses, needs assessments, geospatial analysis, and independent verification and validation. We empower clients to address internal challenges and expand operational capacity.
In-State Advantage
Public health is more than just an area of expertise —it's personal. As West Virginians, we have been directly impacted by the challenges that face our state, and are driven to be a part of the solution.
Recent Work
Covid-19 Policy Evaluation
Systems of Care Evaluation (SOC)
Mountain-state Assessment of Trends in Community Health (MATCH)
View All Our Programs