Back to

News
Art in the Libraries: West Virginia People of Color in Healthcare
Health Sciences Pylons / November 2021-May 2022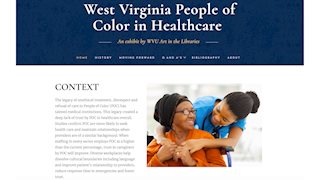 The Health Sciences Center Library is hosting three new Art in the Libraries exhibits, including "West Virginia People of Color in Healthcare."
Healthcare in the Mountain State, like many areas in rural Appalachia has obstacles to overcome such as employing a diverse population of providers and equitable access to quality healthcare.
Historically, People of Color in health care navigated their own path through discrimination, segregation, and systemic racism to become practitioners. Today's practitioners continue the legacy of providing communities quality care and generating People of Color's increased trust in medical institutions thus increasing the quality of public health and well-being.
This exhibit looks at the past, present and future of West Virginia People of Color in Healthcare with historical imagery and text, current perspectives and WVU initiatives and more.
View the online exhibit or visit the exhibit in the Health Sciences Pylons.
Other new exhibits include "WV AHEC Rural Community Health Scholars Program: An Exhibit of the 2021 Interprofessional Education Faculty-Staff Award Winning Project" and "Trees: A Selection of Prints."