Back to

News
Charleston Physician Asif Rahman named "Outstanding Volunteer Clinical Teacher Award" at American College of Physicians National Meeting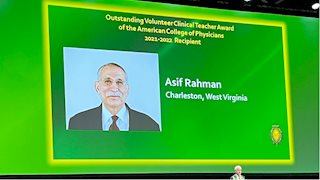 Asif Rahman, MD, FACP, a nephrologist at Charleston Area Medical Center in Charleston, W.Va. was honored by the American College of Physicians (ACP) with the "Outstanding Volunteer Clinical Teacher Award" during the ACP annual Internal Medicine Meeting held in Chicago, Illinois in April.
Academic institutions rely heavily on professionals like Dr. Rahman who provide service to the academic programs without direct compensation. These medical practitioners, academic physicians, basic scientists, and other health sciences professionals provide a multitude of service, including regular contact with student or residents in an education and/or clinic setting, interacting with faculty, students and residents though research, teaching and service.
The American College of Physicians (ACP) is a diverse community of internal medicine specialists and subspecialists united by a commitment to excellence. Internists apply scientific knowledge and clinical expertise to the diagnosis, treatment, and compassionate care of adults across the spectrum from health to complex illness. With 161,000 members in countries across the globe, ACP is the largest medical-specialty society in the world. ACP and its physician members lead the profession in education, standard-setting, and the sharing of knowledge to advance the science and practice of internal medicine.