Back to

News
Children's dental screenings offered Feb. 3 as part of Give Kids a Smile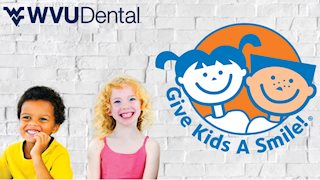 MORGANTOWN, W.Va. – WVU Dental Care will celebrate National Children's Dental Health Month by offering oral examinations, dental cleanings, fluoride treatments, dental radiographs if indicated and oral health education to children ages one to 17 from 9 a.m. to 4:00 p.m. on Friday, Feb. 3 in the WVU Pediatric Dentistry Clinic.
The Pediatric Dentistry clinic is located in Health Sciences Center-North adjacent to the WVU Cancer Institute. Click for directions to our clinics.
"Give Kids a Smile!" is an annual national dental access program of the American Dental Association and the West Virginia Dental Association. Dental and dental hygiene students from the WVU School of Dentistry will perform the care under the supervision of faculty.
Gina Graziani, DDS, is the chair of the department of pediatric dentistry at WVU School of Dentistry.
"We continue to see an increase in the volume of pediatric patients who need emergency and comprehensive oral care," the pediatric dentist and department chair said. "Providing additional opportunities for early exams and interventions can help decrease the dental disease burden in our children."
Since becoming chair, Graziani has been able to hire two additional pediatric dentists to help meet the oral healthcare need.
WVU is currently seeking accreditation for a new advanced dental education program in pediatric dentistry , which will train three pediatric dentists per year to help meet the unique oral needs of West Virginia's youngest patients. The state faces a shortage of pediatric dentistry specialists according to Graziani.
Appointments are required for "Give Kids a Smile!", and space is limited. To schedule an appointment for the free services, call 304-293-6208.
The American Academy of Pediatric Dentistry and the American Academy of Pediatrics recommend that children see a dentist after they get their first baby tooth and no later than their first birthday. An early visit enables a dentist to determine the child's risk of cavities so that preventive action can be taken to avoid cavities.
Dental students and faculty provide more than $100 worth of services for each child.
The clinicians expect to see children every 45 minutes for 60 patients throughout the day. Participants in past years have ranged from existing patients to children who have never visited a dentist. Children of all needs and levels of care are welcome at the clinic.
Click to download a flyer to share with friends and family groups.
For media inquiries: Sunshine Wiles, Director of Marketing and Communications, 304-293-6133.
sunshine.wiles@hsc.wvu.edu