Back to

News
Community event in Welch to focus on women's heart health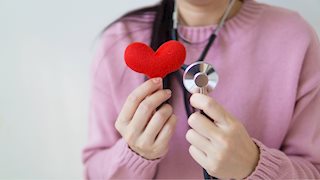 As part of National Heart Month in February, a free community health event, "Red Dress Health Awareness for Women," will be hosted Feb. 23 in Welch.
The event, set for 10 a.m. to 4 p.m. at the McCaffey Center in Welch, will be led by Melissa Coleman, an ICU Nurse Manager and WVU School of Nursing-trained faith community nurse, and Stephanie Lusk, a WVU Extension Family & Community Development Agent and School of Nursing Master of Science in Nursing (MSN) student.
Education will be provided on the differences in heart attacks and disease prevention for men and women. Attendees can also enjoy heart-healthy snacks and screenings, including blood pressure, blood sugar, ECG, pulse oximeter, cholesterol and weight.
A drawing will be held for a door prize, and each attendee will receive educational information and a small take-home bag of goodies. This event is being made possible thanks to the Rusty and Kimberly Hutson Family Foundation's contribution to Faith Community Nursing initiatives.
For more information, please contact Melissa Coleman at melissacolemanfcn@gmail.com.